Green Fingered and Creative in West Hoathly and Sharpthorne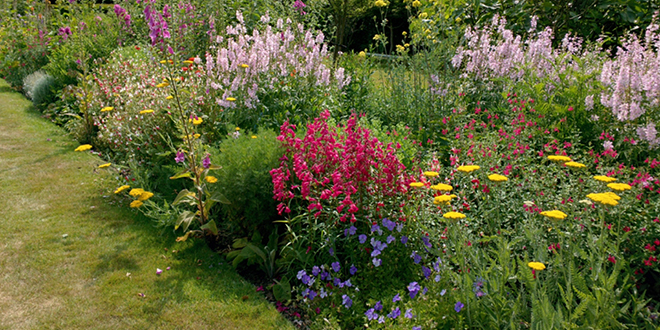 Have you ever seen a handkerchief size garden or witnessed the true beauty of medieval costumes first-hand? Well these are just some of the many delights you can experience on the third Garden and Art Trail in Sharpthorne and West Hoathly this June.
Following two successful years, the organisers are more ambitious and have a host of exciting artistic additions to keep both the green fingered and creative happy. With more than 20 gardens to visit, several of which are new, you won't be disappointed. Marvel at the intricate designs of herbal knot gardens or the vast fruit orchards that span acres of land. There will also be an abundance of tea and cakes on offer to enjoy along the way!
Among the features to look out for will be wood turning at Highcroft Rd, a woodland walk at Leam's End, a plant sale at Maytrees on Top Rd, an open Pottery Studio at Providence Cottage on North Lane and a totem pole at the end of one Hamsey Road garden. The 8ft plus sculpture illustrates the garden owner's life and is carved from green oak by local carvers at The Woodland Centre. There will also be some stained glass pictures and other artwork created by the homeowner alongside a stall promoting Dementia awareness. The Sussex Archaeological Society will also be opening the Priest House and Garden, one of West Hoathly's hidden gems.
Local artist and musician, Caz Greenwood, who is responsible for organising the art at this year's event will be showcasing her work and etchings of local village scenes. One of which was chosen to be displayed at the Royal Academy's 2015 Summer Exhibition.
Margaret Watson, the well-known local harpist, took everyone by surprise last year when she displayed her impressive collection of historical costumes in her garden in Sharpthorne. This year, she will be moving them to St Margaret's Church to get the full effect of the medieval surroundings. For anyone interested in this period of history or any aspiring costume designers, this is well worth a look.
Ploughman's Lunches will be served in the church from 12.30pm – 2.00pm and teas will be served all day at Hoathly Hill (profits to Hoathly Hill Trust), The Vicarage, Duckyl's Holt and The Willows, 15 Hamsey Road (profits to Neil's Club for Young Onset Dementia).
Tickets with a map will be available in advance from Sharpthorne Café, Cost Cutters, The Cat Inn and on the day from the gardens and the church.
Admission price, £5 with accompanied children, free. The monies raised from this event will go to St Margaret's Church Building Fund, Pericles and other local organisations.
Parking is available in West Hoathly School Playground, Finch Field, Hook Lane Car Park and at some gardens and minor roads.
Date for your diaries: 18th June 2016 Time: 11.00am – 5.00pm