Get Fit For Free at The Reigate Priory Parkrun
If 2016 is the year that you've decided to take up running or just become more active, the Reigate Priory parkrun could be the perfect way to give your New Year's resolutions a head start!
Each Saturday morning, at 9am, runners of all ages and abilities take to the start line for a 5K route around Priory Park, for a fit, fun and FREE start to their weekend.
The Reigate Priory parkrun is one of almost 370 weekly timed and volunteer-run events that take place throughout the country, and since its launch in March 2014, sees over 150 runners regularly pound the park's pavements.
"Everybody has to start somewhere and many people start with running and walking as a way to build up fitness or do one lap rather than two," Event Director Paul Chandler told us. "It is not a race. Some runners are more competitive, but others enjoy a sociable run in a beautiful park with happy companions as a great start to the weekend."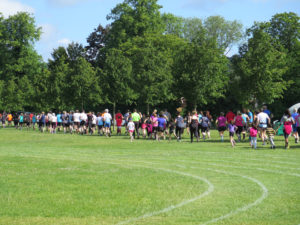 So, who can join in?
"Anyone on two legs!" Paul laughs. "The age range is about 8 to 80, but there are probably some either side of this. You can run with a dog on a lead. You can push a buggy around the course – one with big wheels if the child is to have a comfortable ride."
"Come and see us in the park, and run if you feel like it. It's completely free!"
To find out more, register for the next event or to volunteer, visit: www.parkrun.org.uk/reigatepriory.