Fun awaits in the great outdoors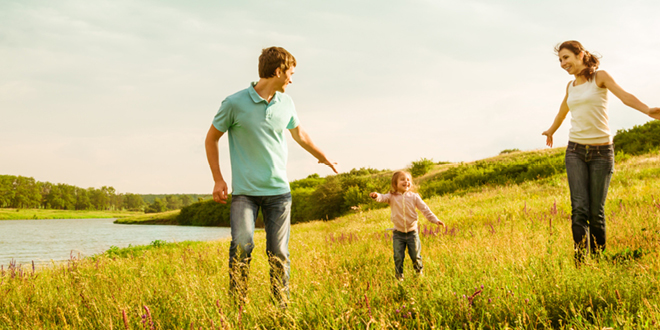 The school holidays are upon us, and it's time to let the kids embrace the great outdoors!
When we were young, summer holidays were spent outside playing with friends, learning to ride our bikes and having adventures away from the stuffiness of the classroom. However, with a recent government survey finding that 74% of the 5-12-year-olds asked are spending less than 60 minutes outside per day, it's clear that school holiday activities have sadly changed somewhat.
But, what hasn't changed are the benefits of being outdoors. From developing a love of nature to increased health and wellbeing to developing problem-solving skills and creativity, getting out and about is just as good for your child as it was for our generation –if not more important now we're in such a technology-reliant world.
So this summer holiday, ask your kids to step away from Snapchat, put down their PlayStation and stop binge-watching on Netflix and embrace the great outdoors instead!
A picnic has been a staple summer's day fixture for years. It's uncostly (just grab a few homemade sandwiches and head outdoors) and the perfect way of introducing your child to nature. Shockingly, though, according to a study (by the Eco Attractions Group), half of young children have never been on a picnic apart from in their back garden.
If like 8 out of the 10 parents surveyed, you've been meaning to spend more time with your child outdoors but just haven't got round to it, start packing up that picnic rug, grab those sarnies and get outside; there are some seriously stunning scenic spots to uncover. Our favourites include the National Trust's Nymans (near Haywards Heath), Bateman's (Burwash) and Standen (East Grinstead). Being iconic National Trust properties means there's plenty of wildlife, flowers and history to discover – giving an educational day out experience, far removed from a day spent on the sofa.
Does your child enjoy sports?
The chances are that apart from the necessary once-a-week PE session at school, your child isn't getting the one hour A DAY (yes, a day – quite a surprise isn't it?) of aerobic exercise they need.
If you've got a sporty child, why not enrol them in an outdoor football or netball camp for a few days over the holidays? Or, host your very own sports day! Invite your friends and their children for an afternoon of games in the garden. Not only will this get healthy hearts pumping but also see children communicating with others and utilising those problem solving skills too.
Did you know there are almost 8000 hectares of wildlife conservation in Surrey and 30 nature reserve sites in Sussex, just waiting to be explored?
[tie_slideshow] [tie_slide]
[/tie_slide] [tie_slide]
[/tie_slide] [tie_slide]
[/tie_slide] [/tie_slideshow]
The Surrey Wildlife Trust manages Hedgecourt (an ancient mill pond with the largest body of semi-natural open water in East Surrey) in Felbridge and Newdigate Brickworks (a reserve located on the site of a former claypit and brickworks), whilst the Sussex Wildlife Trust runs nature-based holiday camps in Tilgate Park, Crawley and reserves such as Old Lodge (in the Ashdown Forest), the beautiful Ditchling Beacon, Malling Down (with its rare flowers and butterflies) and many, many more.
Whatever you do this summer – get outside and explore, the great outdoors is waiting for you!
By Shelley Welti