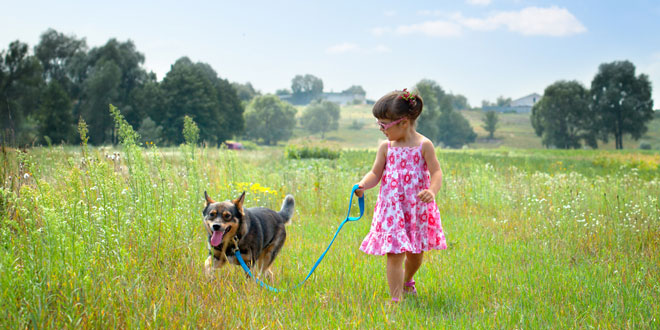 Free classes offered to help children overcome their fear of dogs.
Imagine a child unable to go to the park, the beach, or even walk to school – not because of disability, but because of a debilitating fear of dogs.  Well for those children help is now at hand in our area.
Free classes
From Fear to Friend is a newly formed voluntary group which runs regular free classes teaching children aged 5 to 11 how to relax in the company of dogs without worrying.
Sessions are carefully structured with the children always supervised and participating within their own comfort zone, only coming into contact with the dogs when they are ready to do so.
Safe and fun
"We create a very safe environment for the children," says founder and long established local dog trainer, Ann Cook. "We want them to have fun and enjoy the progress they are making. Our classes include the Kennel Club Safe & Sound scheme and Reading2Dogs. We encourage the children to do a little more each time so they gradually build up their confidence."
All the dogs have been specially trained for the task and, together with their handlers, have been assessed for temperament, control, behaviour and obedience. The group currently has 7 qualified assistance dogs – from pretty little Freya the Cavalier King Charles Spaniel to handsome and gentle Boris the black Labrador.
Positive results
The response from the children who have taken part so far has been excellent with very positive reports from parents. "My daughter took part much more than I had hoped for," says one Mum. "It's given her so much more confidence already and she can't wait for the next session."
The free classes take place from 5pm to 6pm on the second and fourth Wednesday of each month. Children from all local areas are welcome.
For more information and to book a place please call Ann Cook on 01737 246902.
You an also visit us on Facebook – just search for From Fear to Friend.