Festive fun at the Llama Park
Crafts and reindeer herald the start of the Christmas season at the Ashdown Forest attraction
A pair of resident reindeer will be taking centre stage when the Christmas season starts at the Llama Park, at Wych Cross, on Ashdown Forest, later this month.
The park, which is home to 30 llamas, 15 alpacas and a range of other animals, including horses, donkeys, Shetland ponies, pigs, sheep, chickens and ducks, will be welcoming Father Christmas from November 26 to December 24 as part of its festive celebrations.
"It's going to be fantastic," says Bobby Shuck, who runs the park with his wife, Susan Barrow, and their daughter Lily Shuck.
"The two reindeer live here all year round but during the Christmas period, they get to help Father Christmas deliver his presents all over the world. Everyone loves them."
This Christmas will also mark the end of a busy year at the attraction during which it received a major revamp that included new activities and the granting of a licence to serve alcohol and showcase live music.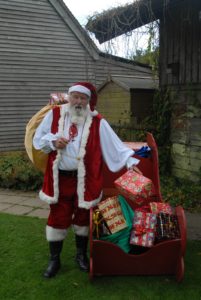 The re-launch, which took place in August, introduced other features, including a new entrance to the park through the gift shop, and a redesigned restaurant with a new kitchen and upgraded equipment.
Plans are also in hand to widen the appeal to other visitors in 2017, as Bobby explains. "We'll be holding barn dances and comedy nights next year along with rock n' roll events.'
"We're also going to open a new bar in the barn catering for people aged over 60, as well as a new music club called the Jam Jar where musicians will jam and people will be able to jar!"
The focus remains very much on the animals, which play a central role in many events at the attraction, including wedding ceremonies.
"We are licensed to hold marriages, and often one or two of the llamas take part wearing bow ties," says Bobby.
"Marriages takes place in the barn, which has a window where the animals are on the other side of the glass so they can be right there during the ceremony. People love it – it's a completely unique experience."
For more details about the Llama Park and all the Christmas events taking place there, visit: www.llamapark.co.uk
By Caroline Hardy