Feast Grinstead – Eat, drink and be merry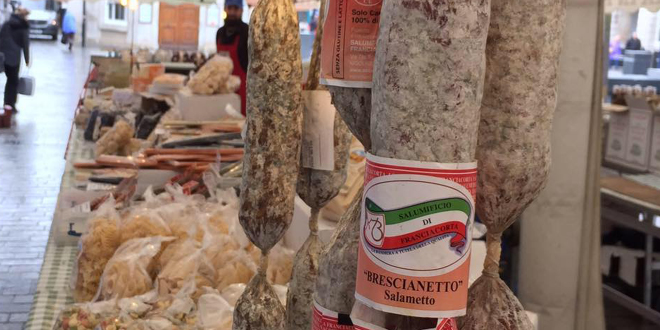 Italian food, wines from around the world and local produce will be on offer at the first East Grinstead Food and Wine Festival
A FEAST for the senses is promised at East Grinstead's inaugural food and wine festival, which will bring a taste of Italy to the town for the first time.
Wine tasting and local produce will also be part of the East Grinstead Food and Wine Festival, which has been named Feast Grinstead and takes place at East Court on Sunday, October 2 from 10 am to 4 pm.
At the East Grinstead Town Council event, foodies will be able to stroll around the stalls of an Italian market in the front courtyard of East Court Mansion.
The market will be run by Italia in Piazza, which holds regular authentic Italian food markets in towns all over the country, including Horsham.
The company, which began trading in 2007, is one of the leading speciality Italian food markets in the UK.
Italia in Piazza sources food directly from producers in Italy including chillies from Calabria, pesto from Genova, cheeses from Lombardy, and pastas and sauces from Puglia.
Also on offer will be cured meats, olives, speciality breads, olive oil, biscuits, Italian sausages, herbs and other traditional Italian foods.
All the stallholders are Italian and will be able to chat with customers, give tips and even swap recipes.
The wine event will take place at the same time in the Meridian Hall and feature between eight and ten distributors.
Among the distributors already lined up are Winety Boutique Wines, Bordeaux and Beyond, Character Wines from India, Wines of Hungary, Campania Food and Wine, Hyde Park Wines and Carte du Vine.
Visitors will be given a glass on arrival and be able to talk to each distributor who will explain more about each wine before inviting them to taste it.
Although entrance to Feast Grinstead is free, a £3 charge will be made for the wine event with funds going to the Mayor's charity.
Town promotions manager Dawn Spalding is hoping Feast Grinstead will prove such a success that it becomes an annual event.
"While we've had a French market in the town before, we've never welcomed an Italian one," she says.
"Italia in Piazza holds markets all around the country so we are delighted to be welcoming them, along with wine distributors and local producers to this inaugural event.
Although the French market is usually held in the town, we decided the courtyard setting at East Court would make a lovely, authentic venue for the Italian version. There is parking nearby, too."
The event organisers also hope to get restaurants in East Grinstead to get involved
"We would like to extend the event into a second week by getting local restaurants to participate, but this is still under discussion," Dawn added.
For more details, call 01342 410121.
By Caroline Hardy