Get Ready For Haywards Heath's Christmas Festival
The Haywards Heath Christmas Festival – the largest festive event in the town – is back for 2015 on the 28th and 29th November.
Father Christmas, his elves and live reindeer will be arriving on Saturday afternoon – it's the perfect weekend for families to get into the festive spirit.
From 11am on Saturday, there'll be music, singers, school choirs, Spanish dancing and bands to entertain you while the Top Bananas, our stilt-walking jazz musicians, will get you all singing along.
The Grand Procession, led by Father Christmas and our Mayor in the sleigh, will begin just after 3.30pm before the Town's Christmas Lights are all switched on at 5pm and the countdown to 25th December begins!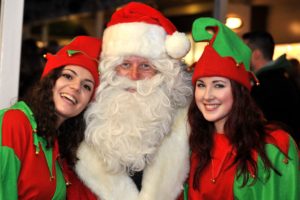 This year, head of the Haywards Heath Town Team Ruth De Mierre told us the procession will be joined by the Town's Winter Festival procession, organised by the Haywards Heath Community CIC, which will lead everyone to Victoria Park for a Grand Festival Firework display, courtesy of our Town Council.
On the Sunday, Father Christmas and his elves will be back in his grotto and at 11am, the combined 100-strong St. Wilfrid's & Lindfield Primary Schools' Choir will set the scene for another wonderful day of entertainment which will see the local talent from RokSkool, the foot-tapping In Choir, students from the Ariel Company Theatre, the magnificent Ruwach Church Choir and Tina Turner (a.k.a Cylvian Flynn) and Nightingale, Tania Rodd.
Father Christmas will be visiting his grotto in The Orchards on the three following Saturdays – the 5th, 12th and 19th December.
As Orchards Manager, Nicola Bird, says: "It's amazing how everyone has heard how fantastic our Christmas Festival is here in Haywards Heath!
"We really are becoming world news and it's great that Father Christmas has agreed that each photograph taken with him should give £1.00 to Great Ormond Street Hospital."