Encouraging Confidence and Creativity: Orbit Shed
Theatre schools aren't just for children who want to be actors, with many attending performance workshops like those organised by Reigate charity Orbit Shed, to gain confidence, boost self-esteem and their sense of citizenship, regardless of their abilities, experience or background.
We spoke to Sharon Scotton, Chair of Trustees for the local charity and mum of three children (two with physical/ learning disabilities) to hear all about this great local group:
"I've always performed in school plays, amateur dramatics, choirs and then I started a theatre company at university to act in and direct the shows, I wanted to put on," Sharon told us, about her background.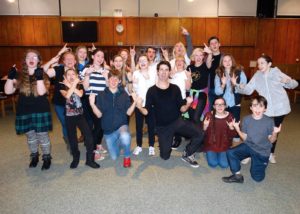 "My first child has a physical disability and my second, a learning disability, but both are very artistic and I got fed up with them being sidelined for the wrong reasons. So when the opportunity to get involved in setting up a Shed in Reigate and Banstead presented itself, I got involved from the outset. All three of my children have been involved in Orbit Shed for most of their lives, not only as members but also as volunteers and leaders. It has been a really important part of developing their confidence and skills."
The group was originally established in 2003 by the North London based Chickenshed Theatre Company, who Sharon and the now Orbit (standing for Our Reigate and Banstead Inclusive Theatre) Shed team first heard about during the Queen's Golden Jubilee celebrations. After raising £35K through grants, donations and fundraisers, Chickenshed helped Orbit Shed to open in 2003, giving 'on the job' training. By April 2014, the theatre school became an independent local charity, offering an inclusive and affordable range of performance arts for all:
"We don't turn away children with physical or learning disabilities," Sharon says. "Instead, we have a strong group of volunteers ranging in age from nine to seventy who work with each age group to make sure that all the children in our groups can access the activities and that they all work co-operatively supporting each other to produce exciting and innovative performances. We try to provide an opportunity to perform in public at least once a year."
The charity runs three groups; Little Theatre (4-7 year olds), Children's Theatre (7-11 year olds) and Youth Theatre (11-17 year olds) on Tuesday evenings, during term time at St Luke's Church, Church Road, Reigate.
If your child is interested in joining contact Workshop Leader Vicki, by emailing orbitshed@hotmail.co.uk or calling our answerphone 07724920243.