Dunottar School Leadership Team Shortlisted for National Award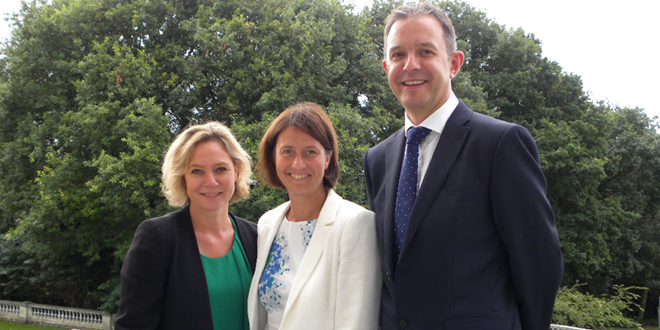 The new academic year is underway and it's a time to celebrate at Dunottar School in Reigate, in addition to welcoming the school's largest ever co-educational cohort of new pupils, the senior leadership team has been shortlisted in the prestigious TES Independent School Awards 2016.
The Times Educational Supplement Independent School Awards celebrate the achievements of teams and individuals making remarkable strategic contributions to independent schools across the UK and seek to applaud excellence and reward innovation and will be handed out in late November.
The 'Senior Leadership Team of the Year' category recognises that effective schools require exceptional leaders – Dunottar's senior leadership team comprises head teacher Rowena Cole, and deputy head teachers Marc Broughton and Pippa Smithson.
Rowena Cole, said: "I am thrilled that we have been shortlisted for this award.  We have accomplished a huge amount at Dunottar in the last two years – and are excited about everything we can achieve in the future – but none of it would have been possible without the fantastic team spirit that we have at this school.'
"The sense of community and the enthusiasm, knowledge and commitment of our staff extends far beyond the senior leadership team, but Marc, Pippa and I feel very honoured to be recognised in this way."
Rosalind Given-Wilson, Chair of Dunottar's Local Governing Board, commented: "I have been deeply impressed by the leadership that Rowena Cole, Marc Broughton and Pippa Smithson have demonstrated at Dunottar.'
"Their energy, positivity and support motivates staff and inspires pupils. They set the tone for Dunottar, which is one of optimism, aspiration and inclusivity, and they lead by example. To be nominated for such a prestigious award is recognition of a truly exceptional team who are shaping Dunottar's exciting future."
[box type="shadow" align="" class="" width="600″]
Dunottar School became part of United Learning in 2014.
Rowena Cole and Marc Broughton took over the leadership of Dunottar in September 2014 and Pippa Smithson joined in January 2015.
Further information about the awards, visit: www.isawards.co.uk 
[/box]