Dick Whittington Comes To The Hawth Crawley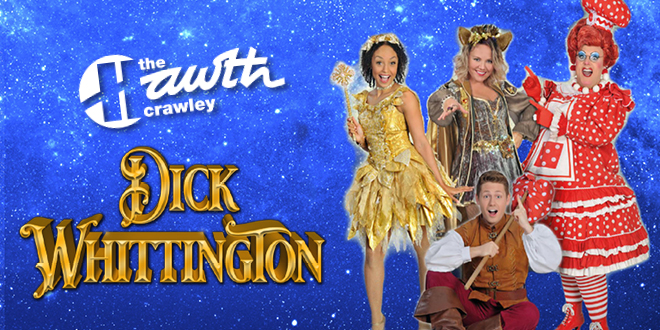 It Is The Time Of Year Again… …Oh Yes, It Is!

Dick Whittington Comes
To The Hawth Crawley

The Hawth Crawley will be paved with gold this festive season when pantomime, the timeless tale and family favourite, Dick Whittington takes to the stage from Friday, December 6 to Sunday, January 5 starring EastEnders legend, Charlie Brooks as Queen Rat and the much-loved regular of The Hawth's annual panto, Michael J Batchelor as the dame.
Hear The Sound Of The Bow Bells & Book Your Ticket

Tickets are selling fast ever, so book now to avoid disappointment!
For tickets, call The Hawth Box Office on: 01293 553636, or visit: www.hawth.co.uk.
Dick Whittington is going to be the talk of the town this Christmas as the panto comes to Crawley with the talented Charlie Brooks, as Queen Rat, audiences will love booing the EastEnders star when she performs alongside children's television favourites Gemma Hunt from Cbeebies' hit show, Swashbuckle and Channel 5's Milkshake! Presenter David Ribi.
Completing the all-star cast thrilling the crowds this Christmas will be Crawley's much-loved dame in residence, the fabulously outstanding, laugh-a-minute, Michael J Batchelor and Richard Franks, who are both back by popular demand to guarantee laughs a-plenty with their take on topical jokes alongside unique and tried and tested gags and routines.
Charlie is no stranger to playing the baddie as she rose to prominence playing the role of Janine Butcher in the BBC's flagship soap, Eastenders and she proved a huge hit with the British public when she was crowned queen of the jungle in 2012's I'm A Celebrity… Get Me Out Of Here! when she faced the creepy crawlies of the Australian rainforest for ITV1.
Once again, the show will be written by Paul Hendy, and produced by Evolution, the same team behind last year's smash hit, Aladdin. Dick Whittington is a pantomime adventure like no other, with spectacular sets and costumes, amazing special effects and a funny script that will have all ages rolling in the aisles, so get the family together for the panto 2019.