Crawley Wasps Ladies Football Club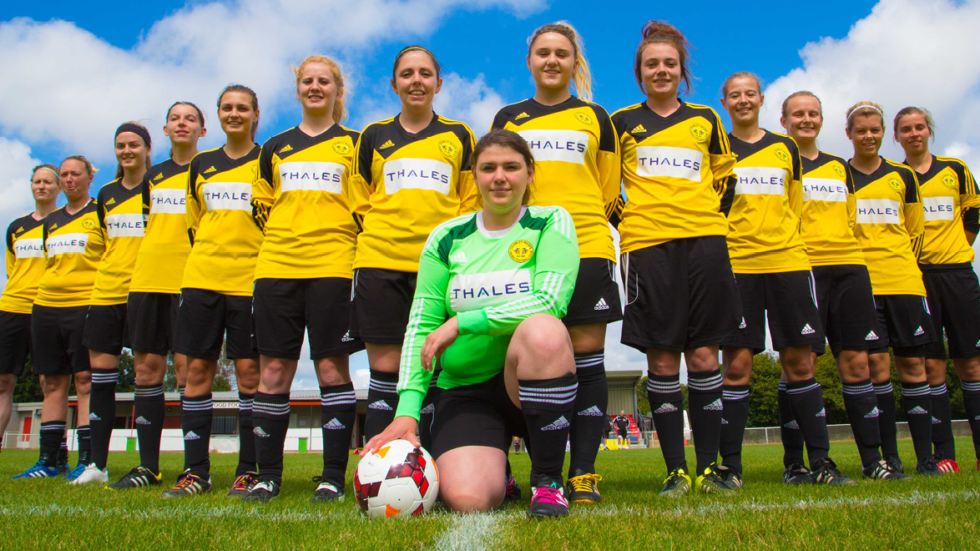 Women's football has grown in popularity in recent years, and Crawley Wasps, one of the biggest women's and girls' clubs in the South East has benefited from that increase. Last season, in the club's 25th anniversary season, there were more than 100 players – from under-11s to ladies on the books, and the club secured a sponsorship deal with Thales.
On the field, Wasps are enjoying continued success – the ladies first-team equalled the club's highest-ever league finish and reached the Sussex Women's Challenge Cup final for the second year in a row, losing to Women's Super League side Brighton. Promotion to the FA Women's Premier League, which would bring opportunities to grow the club is the target.
Wasps' Under-15s attracted nationwide attention last season when they entered a boys' league, for a one-off season, having gone unbeaten in girls' football since 2013. The club's youth set-up proves to be a real asset with a number of Wasps' youngsters having gone on to join Brighton's academy and been called up for the Sussex FA's junior representative sides.
Dawn Keegan, the club's child welfare officer, said: "We've always taken safeguarding very seriously. All our coaches are suitably qualified and thoroughly checked before they take any role with the children. In terms of playing, we don't hold trials until they reach the Ladies section, so you can just turn up for good-quality coaching."
Crawley Wasps is an FA Charter Standard Club, meaning they offer football in organised and safe environments, supported by FA-qualified coaches, and adhere to FA child protection guidelines – the club also has a code of conduct for players, coaches and officials.
Thanks to an excellent relationship between the club and Crawley Borough Council, players from all teams train at Wasps' dedicated facility at Ewhurst Playing Fields in Ifield Drive, where the youth and reserve sides also play home matches, with the Ladies' first team playing their games at Oakwood Football Club in Tinsley Lane.
Wasps' vice-chairman Paul Walker, who is also the Ladies' first-team manager, says: "Football is about educational and social, as well as sporting, development.
We would love more local businesses to help support the aims and objectives of Crawley's premier ladies and girls football club, whose name is regularly carried locally and across the South East in the media. It's never been a better time to be involved with Wasps – on and off the pitch."
As well as a major sponsorship deal with Thales, further support has come from local restaurant Tarana, Basepoint Business Centre, Wallace Walker management consultants and the Bunaken Oasis Dive Resort, though the club is hoping to attract more partners.
[box type="shadow" align="" class="" width="600″]
Would You Like To Kick-Off In The 2017-18 Season?
Wasps' Ladies section will be holding trials and training sessions throughout August – the club is open to all, from the age of seven.
To discuss joining the club, as a player or sponsor, call Paul Walker on 07710623980, or to enquire about the youth section, email: dawn.keegan@crawleywasps.com.
For information about Crawley Wasps Ladies Football Club, visit: www.crawleywasps.com on Facebook: facebook.com/crawleywaspslfc or @crawleywaspslfc on Twitter.
[/box]
By Jacob White