Community Heroes: Jane Adams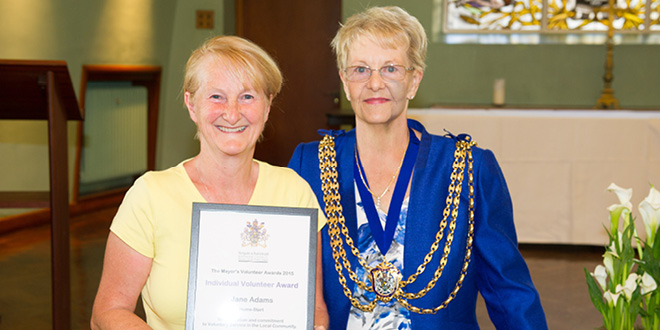 This month, we're shining the spotlight on Jane Adams; a longstanding volunteer for family support charity Home-Start East Surrey and whose contributions saw her receive a Mayor's Volunteer Award, last year.
In her 14 years working with the charity (which helps families in need of support with children under five), Jane has worked with over 12 families and dedicated over 2,000 hours to Home-Start! In recent months, she has had to sadly step away from her voluntary role, as she's moving out of the area. But, before she goes, we (and Home-Start!) wanted to highlight her fantastic achievements:
"Jane has helped families with cooking skills, encouraging and accompanying isolated mums to toddler groups, giving advice and support to new mothers who did not have their own mothers around, providing an extra pair of hands to families with twins and triplets, supporting bereaved families and mothers with depression and always being a good listener," Anna Silver, the charity's organiser tells us.
The East Surrey branch of the supported family charity is a lifeline to local parents, under stress. Covering Tandridge, Redhill, Reigate and Horley, families are supported by volunteers (all of whom are all parents themselves, so understand just how hard raising children can be!) who visit them once a week, for several months (if necessary) and offer non-judgemental practical and emotional support to parents in situations as diverse as isolation, bereavement, multiple births, illness, disability or who are just finding parenting a struggle. Ultimately; they help to build the family's confidence and ability to cope.
"Jane has become an expert at supporting mums with multiple births. She has supported at least two sets of twins and spent two and a half years with a family with triplet boys, watching them grow from babies to energetic toddlers," Anna says. "She visited every week for three hours helping with feeding, playing and getting to the park, through teething, chickenpox and learning to walk, talk and climb! She looked after all three boys while their mum got on with the housework and was always there for a chat and to listen when things were difficult."
"She is empathetic, kind, non-judgemental and very reliable, all highly important qualities for a Home-Start volunteer. She is always calm and willing to help and has lots of practical advice and experience from being a busy mum and grandmother herself. She is an excellent volunteer.
"Sadly for Home-Start, she is moving out of our area but the families she has visited will remember her support and kindness."
Congratulations Jane and good luck with the move!
To find out more about Home-Start East Surrey visit: www.home-starteastsurrey.org.uk.