Community Hero: Veronica Ballard, MBE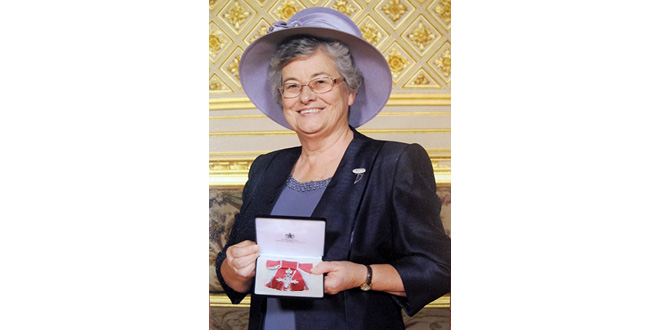 This month we're highlighting the fantastic achievements of Horley's Veronica Ballard, who last year was awarded an MBE, by Her Majesty the Queen, for her services to the community.
Veronica, who has lived in Horley since she was a small child, has spent over 45 years being heavily involved with local groups and organisations; including Girl Guiding, Horley Photographic Club and the Local History Society. She was also a teacher at Burstow Primary School for 37 years.
Once she retired, instead of slowing down, Veronica became even more involved in Horley's busy social scene – volunteering behind the scenes at The Archway Theatre and as an advisor at Horley Citizens Advice Bureau. In 2012, the council acknowledged her commitments with a Horley Town Award.
"Being involved in the community is like another hobby and, of course, you are always learning new skills and meeting people," the enthusiastic community member explains.
"On retirement, I joined the C.A.B. which really made me appreciate the problems that people have to cope with and it gave me pleasure to see them enabled to do something and in many cases 'see through the mist' and understand their options."
"I also joined the Archway Theatre," Veronica continues. "Scrubbing and painting scenery can really be fun! We do need more help, so if there are any active retirees who can handle a paintbrush for a few hours a day every 6 weeks, please get in touch!"
It has been nearly a year since the Horley community hero found out that she had been nominated for an MBE – news that understandably, came as a bit of a shock!
"When I received the letter informing me that I had been nominated for an MBE, I thought it was a practical joke! It took me a while to convince myself that it was true and I had to keep quiet for about eight weeks until the Queen's birthday honours list was published in mid-June."
"Seeing my name in print made it real," she says. "However, I felt that I was being honoured on behalf of many other people who do similar community work all over the country. I met a number of people from all over the country who are equally involved in community work when I attended the presentation at Windsor Castle in October."
Congratulations to Veronica! We're sure we'll hear lots more from her over the coming year!
To find out more about volunteering at the Archway Theatre, visit: www.archwaytheatre.com