Community Hero: Valerie Maynard, MBE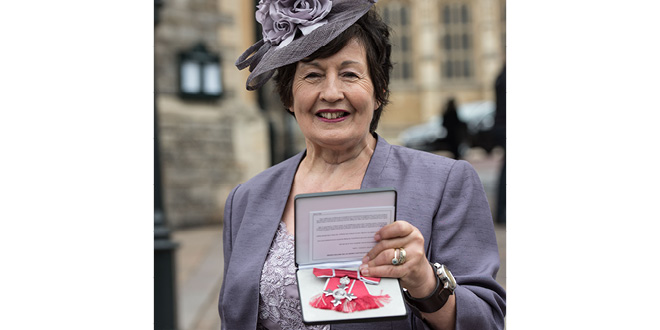 With International Women's Day (8th March) just around the corner, this month we wanted to firmly shine the spotlight on a local resident who has not only helped those in need in the UK, but abroad too – East Grinstead's Valerie Maynard, MBE.
We caught up with Valerie just after she received her MBE (for her work as a volunteer at HM Prison Lewes for Services to Prisoners and their Families) to talk volunteering, meeting Her Majesty The Queen and visiting countries such as Africa, Romania, Poland and Bulgaria to offer assistance:
Why did you decide to volunteer at HM Lewes Prison?
My reasoning for starting to volunteer at Lewes Prison, was all Liz (Bennett, her daughter and Town Councillor)'s fault, she would visit the prison chapel some Sunday mornings and perform a drama for the prisoners. One Sunday she took my husband, Nigel, along with her, and then I was encouraged to visit. That was 20 years ago, and we have not stopped visiting since!
Can you tell us a little about your role?
I volunteer three days a week as a prison chaplain. On Sundays we prepare the chapel for the morning service and talk, pray and help the prisoners in any way we are able. On Mondays I'm in the prison between 7am – 6:30pm. We start with meeting the prison fellowship volunteers at the gate, escorting everyone to the chapel, where we prepare for the Sycamore Tree – a victim awareness course that teaches the prisoners about the effects of crime on themselves, their victims
and the community. And, on Thursdays, I leave home at 6am for chaplaincy office duties.
A new part of my role as a volunteer is to work alongside the police crime commissioner on restorative justice.
How did you find out you were to be awarded an MBE?
I found out a few weeks before the Queen's birthday in June, through a letter from the palace – one of those letters, that you have to read and read again! My husband confirmed it was true as he had been pre-warned that I my name had been put forward!
What was the day of the ceremony like?

On entering Windsor Castle our ID's were checked, we were then escorted to a long red carpeted staircase. I was told that I would go first and my family would follow me. At the top, we then went our separate ways. I joined others waiting to receive their award, and the family entered the Queen's ballroom.
For me, there was a talk through of how the investiture would proceed and how we were to conduct ourselves. Once my name was called, I stepped forward and then curtsied in front of the Queen, then the MBE was placed on me by the Queen, we had a few words, I then stepped backwards, curtsied and left the ballroom! I was able to join the family after all the awards had been presented. We were then allowed to visit the various rooms in the castle, and have official photographs before we departed. We then returned to the hotel, we stayed in the night before, for a celebratory lunch!
As well as volunteering at Lewes Prison, you're also given up your time, over the years for other causes – both in the UK and overseas. Can you tell us more about this?
My husband and I have always had a heart for the poor and when in 1989 the Berlin Wall was torn down, opening up Eastern Europe, we drove to Romania in a van alongside another vehicle with our friends, both vehicles full of aid. We did this for the following five years.
We also support a local missionary who visits various parts of the world, so have been to various African countries helping in the slums.
I am part of the Justice and Peace Group in East Grinstead which has representatives of all the local churches, we plan various services and speak out for justice in many different ways.
And finally; I am the treasurer of Mid Sussex Diversity Forum, which was formed from the Mid Sussex District Council acknowledging that we have various nationalities in Mid Sussex. Once a year, we put on a show, which includes traditional dances, songs, food – great colourful, community events!