Community Hero: Margaret Frosztega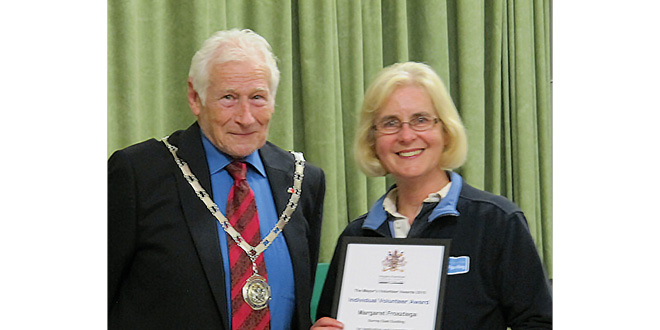 As regular readers will know, each month we brightly shine the spotlight on a Horley resident who has dedicated their time to making our community a better place.
This month we're thrilled to be highlighting the fantastic achievements of Margaret Frosztega, who has been involved with Girlguiding for most of her life and last year was honoured with a Mayor's Volunteer Award (covering the borough of Reigate and Banstead).
Since leaving university, Margaret, who is now retired, has played an active role within Guiding. Alongside running a Guide unit, Margaret became more involved by also becoming a District Commissioner, a County Outdoors Activity Adviser and finally a County Commissioner for Surrey East (which covers an area with Reigate and Banstead Borough at its centre), and along the way has no doubt inspired many young women to unleash their full potential.
"She is such an example of consistency and leadership, never asking volunteers to do what she won't do herself. She really goes the extra mile for Guiding" says Lesley Bailey from Surrey East Guides who chaired the committee and nominated her.
"Her role in Horley was as a Guider for over thirty years and she still fully supports the unit. It created memories, experiences, and will continue to do so, so that guides grow in themselves to reach their full potential."
Lending a hand always seems at the forefront of Margaret's mind, as she has been hands-on in many large scale events. From planning a catering project for 1000 Guides at the Scoutabout camp at Ardingly Showground, to planning a walk across London's iconic bridges for 3,000 members in 2011. She even headed up the regional team as lead volunteer to take local Rainbow members to London Zoo.
As County Commissioner, in 2010 she managed, with her team, the exciting celebrations of the Guiding Centenary, where all East Surrey-based Rainbow, Brownie and Guide groups enjoyed an activity-filled day out at Lingfield Racecourse.
Most recently, Margaret took on the role as Faurefold Chairman – a county campsite and pack holiday house, in Westcott, that is now the subject of a total rebuild due to subsidence. This has seen her fundraising and also applying for grants.
"She leads by example," Lesley continues. "If everyone volunteered and did a little, it would be a community-driven country."
Since retiring from work, like many of our Community Heroes, Margaret has continued to volunteer, by sparing her time to help at National Trust property Nymans. She is also a dedicated member of St Francis' Church Choir and Mothers Union.
Congratulations to Margaret on her award and for being an RH6 Community Hero!
If you too would like to become an adult helper for local Girlguiding groups please visit: www.girlguiding.org.uk/get_involved.aspx or email: GirlguidingSurreyEast@gmail.com.
By Shelley Baker
[box type="shadow" align="alignleft" class="" width="600″]
Do you know of someone who deserves to be recognised for all that they do for your community?
Get in touch and they could be our next Community Hero! Email: Shelley@mantramagazines.co.uk.[/box]