Can you be St Catherine's superhero?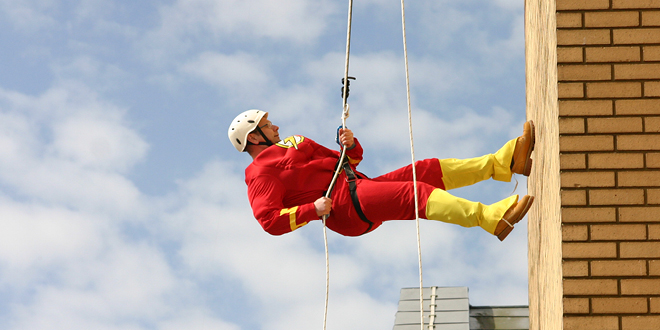 St Catherine's Hospice is calling on adrenaline-junkies to take on a thrilling 100ft superhero-themed abseil to raise much needed money for their local hospice!
Following the amazing success of last year, St Catherine's is challenging you again, to abseil from the outside of the Sandman Signature Hotel in Crawley.
The thrilling abseil is taking place between October 7 – 8, during National Hospice Care Week, which aims to boost the profile of, and celebrate the hard work of local hospices across the whole country!
The exciting event is a huge chance for the South East's brilliant local businesses to become their local hospices heroes, helping to brighten up lives with every step they take for this great cause.
For the bravest amongst you, Saturday, 8 October is the day for you – you won't regret your decision when you reach the top and see the sensational views!
Last year Robin Lord, the digital marketing and communications executive at St Catherine's, took the daring dive for the cause. He says: "The abseil was an experience I will never forget!"
Louise Brown, event fundraiser at St Catherine's, says: "your bravery will help make sure we can be there for local people and their loved ones when they need us most."
The registration fee for this incredible experience is just £20 when you register before August 31.
Use the discount code ABSEILFLYER or ABSEILCORPERATE if registering a business.
To enter, the minimum sponsorship is £200, which will fund a patient to benefit from a day of wellbeing activities -if you take part you will help provide a vital element of patient's care!
This year the abseil has a very fitting superhero theme – all brave volunteers will also be entered in a Best Dressed Superhero competition, for free! However, places are Limited!
For more information, please, call St. Catherine's Hospice on: 01293 447 355, or email: events@stch.org.uk
Sign up at www.stch.org.uk/abseil or www.stch.org.uk/corperateabseil for business entries.