Active Prospects Bowled Over By Bowls Club Generosity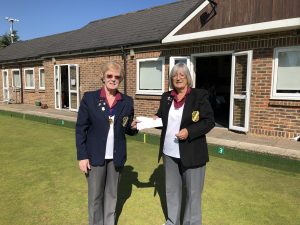 Active Prospects Bowled Over By Bowls Club Generosity
Surrey charity, Active Prospects, Horley Bowls Club's charity of the year for 2019 has received more than £700 from the club following a year of fundraising, with some money still to be collected.
Elaine Fawcett, Horley Bowls Club public relations and media manager says "As a team, we realised that quite a few of us have children or grandchildren who are autistic and so we wanted to support a charity who works with people on the spectrum. Active Prospects was local and meant a lot to us."
The club arranged different events to raise money including collections, and its President's Day, the most successful event was the annual East Surrey & West Surrey Ladies leagues challenge match.
Joel Hartfield, business development director at Active Prospects said "We are so grateful to the
fantastic people at Horley Bowls Club for their fundraising efforts. The funds will help us to make
a positive difference to the lives of people with learning disabilities and autism in the local area."
For more information about Active Prospects, and how you can help, visit: www.activeprospects.org.uk