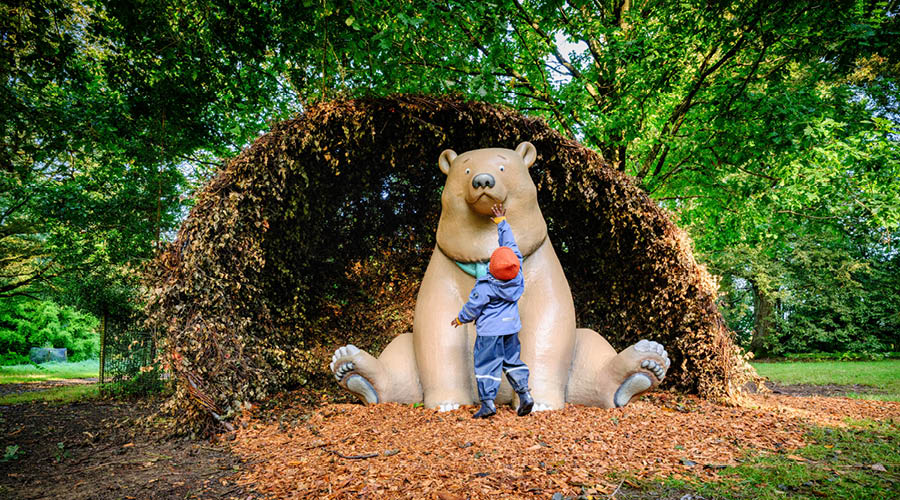 We're Going on a Bear Hunt comes to life at Wakehurst
This October half-term, families are invited to embark on an unforgettable adventure at Wakehurst, Kew's wild botanic garden in Sussex, as the much-loved family favourite We're Going on a Bear Hunt, is brought to life.
Young explorers can delight in sensory installations throughout stunning autumnal landscapes, and participate in the next Nature Heroes mission, to get their paws on a branded badge. The original picture book, written by Michael Rosen, illustrated by Helen Oxenbury and published by Walker Books was made even more popular by Lupus Films' adaptation of the story into an award-winning TV Special which is shown on Channel 4 every year.
This brand-new trail invites families to follow in the footsteps of the characters in the tale, traversing through captivating installations evoking each natural obstacle from the story. On a sensory adventure for the whole family, children can roam through swishy swashy grass, conquer thick oozy mud, brave a swirling whirling snowstorm, and so much more, all in search of the mysterious bear. Celebrating the wondrous colours and textures of the natural world, the trail takes place in a truly unique setting, with British birches in Bethlehem Wood transformed into a tapestry of yellow and gold, to towering Wollemi pines in Coates Wood.
The half-term must-do activity weaves through Tree Trunk Trek, where an adventurous log trail awaits, the perfect pit-stop for burning off extra energy. At the end of their adventure, families can venture into Wild Wood, an enchanting world of woven sculptures, to seek out other friendly creatures, fostering a sense of wonder for the nature.
Families' journeys continue across the broader stretches of Wakehurst's wild landscape, as autumn's golden colours descend on the gardens. For more sensory adventures, children will enjoy crunching autumnal leaves, splashing in muddy puddles or hunting down the sugary scent of the Katsura 'candyfloss' tree. Westwood Lake becomes the perfect photo spot to capture dazzling autumn reflections, and visitors can keep an eye out for weird and wonderful fungi starting to pop up on the woodland floor.
Alongside the main trail, the add-on Tracker Trail mission forms part of Wakehurst's ongoing family programme, Nature Heroes, where young adventurers can conquer a quest each school holiday and half-term, gaining a themed badge. This October, children can hone their wildlife tracking skills on the fifth Nature Heroes mission, earning a beautiful branded We're Going on a Bear Hunt badge to proudly display on their superhero cape.
Programmes Manager, Eva Owen commented:   "We're delighted to be bringing this heartwarming family tale to life at Wakehurst for half-term. We're Going on a Bear Hunt resonates across generations forming the perfect opportunity to bring loved ones together this autumn. Our spectacular gardens offer the ideal environment for this beautiful sensory journey, and we hope visitors of all ages will join us to create muddy memories and inspire a lifelong passion for nature."
This trail runs through a dog friendly route. Please note, Tree Trunk Trek remains dog-free.