In this hi-tech age of online gaming (when just dodging invites to play Candy Crush Saga is a game in itself) you might think that jigsaw puzzles have had their day, but in this fast and frenetic modern world, many people are looking to quieter pursuits to help them unwind and relax. The recent craze for adult colouring books bears testimony to this but when it comes to creating beautiful pictures, a jigsaw beats colouring-in hands down! You don't need coloured pens, nor to worry about keeping in the lines, and you can do it over and over again.
It is true to say that Mary Hyde and her husband, John, are jigsaw puzzle fanatics. John is an expert who gives regular talks on the subject and owns a museum-quality collection, many dating back to the 19th Century. Mary admits that it took her a while to succumb but the old adage 'if you can't beat 'em, join 'em!' proved true and she herself now has over 600 wooden jigsaws, all of which are available through her 'Wray Park Jigsaw Library'.
Mary's library idea began when neighbours asked to borrow the puzzles that she brought to her mother in sheltered housing. Mary realised the puzzles were a form of therapy by promoting dexterity (wooden pieces are easier to handle than cardboard), stimulating the mind, and helping to pass the time. Although initially intended for the housebound and elderly, Mary's scheme now welcomes members from all walks of life.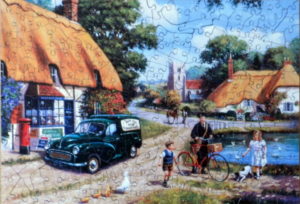 One lady, Jenny, borrows puzzles regularly to share with her daughter and she can't speak too highly of the service Mary provides.
'I just love her jigsaws!' Jenny enthuses. Her particular favourites are 'Wentworths'. These are modern and generally very colourful jigsaws with unique 'whimsies' – pieces shaped like animals, flowers, etc., according to the subject matter. 'They are so different – ordinary jigsaws just aren't enough of a challenge'.
Membership costs £5 and a colour catalogue is provided. Borrowing costs are £5 and this includes either one large puzzle (more than 600 pieces) or 2/3 smaller ones, along with door-to-door delivery and collection. Sizes range from 50-1,000 pieces and the selection includes over 100 of the popular Wentworth jigsaws. Some puzzles were donated by a now defunct jigsaw club and each of these contains a little comment book inscribed by members in the 1950s. They make delightful reading and there are even comments from Princess Margarita of Denmark and Lord Mountbatten! The latter was obviously a man of few words when it came to puzzling – 'Complete' is all his Lordship was prepared to divulge about one jigsaw he did.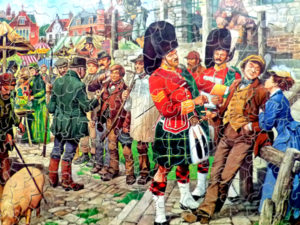 So, for the opportunity of enjoying a jigsaw once done by a Peer of the Realm, why not join Mary's library? With her user-friendly service, it's a 'piece' of cake!
For further information: Tel: 01737 778960 Email: wrayparkpuzzles@gmail.com Web: wrayparkpuzzles.webs.com