80 Years young and attempting to beat his own skydiving world record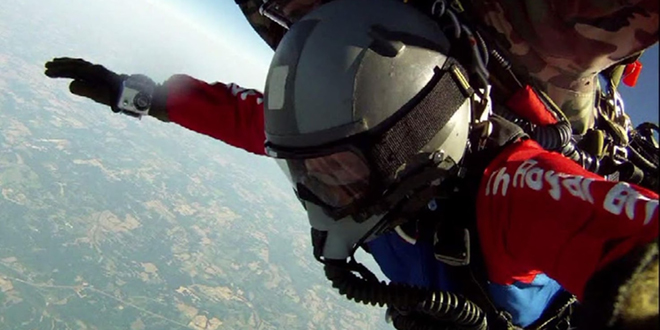 Writing for RH6 Uncovered, I'm lucky to meet some truly inspirational residents. One Tuesday morning chat that will stay with me forever is the one I had with Cllr David Powell – Mayor for the Borough of Reigate and Banstead, fearless fundraiser and octogenarian.
Through laughs about his latest adventure (skydiving 30,000 ft. and falling at 300 mph), young at heart David proved you are never too old to do anything you set your mind to.
Throughout life, we can get set in our ways – especially as we get older, but that couldn't be further from Cllr Powell's outlook, as he attempts to beat his own world record, next month.
The 80-year-old will be once again heading to Memphis to retain his title of being the oldest person to skydive from 300,000 ft. with oxygen. But to 'challenge himself further', David – also known as Percy – has decided to jump at night.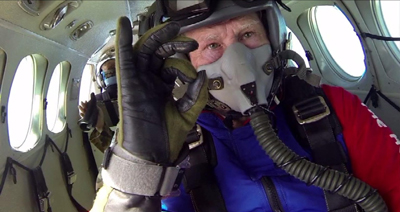 What exactly does that feel like? Of course, I just had to ask the man himself. After all, this will be his fourth skydive!
"It feels very violent," he laughs, "There's quite a bit of turbulence, and you freefall for two minutes, with the air feeling like it's trying to rip your shoulders off! It will be a full moon, so I'll be looking at the earth through the moon!"
The adrenaline-junkie and former soldier has raised more than £10,000 for Surrey Care Trust, the Royal British Legion and YMCA through skydives and other events including rowing the Channel on a rowing machine and abseiling down Guildford Cathedral at the launch of the Poppy Appeal. He has being presented with the Top Individual Fundraiser Award by the RBL.
As well as the skydive on August 18 for the RBL, our inspirational octogenarian will be abseiling down Portsmouth's iconic Spinnaker Tower on August 27 and 'rowing across the Channel' again on a static rower in September – there's no signs of slowing down for David.
"When you get to 80, you need to pack it all in. I'd love to do a bungee jump, but my family and friends are sponsoring me not to do it," the mayor of the borough laughs.
"Don't tell my wife but, I hope to do it again in 2018 to mark the end of the First World War! You've got one life; you've got to live."
If you've also been inspired by Mayor David Powell's amazing achievements, donate via: www.justgiving.com/fundraising/David-Percy-Powell.