4 Tips for Keeping Your Child Safe Online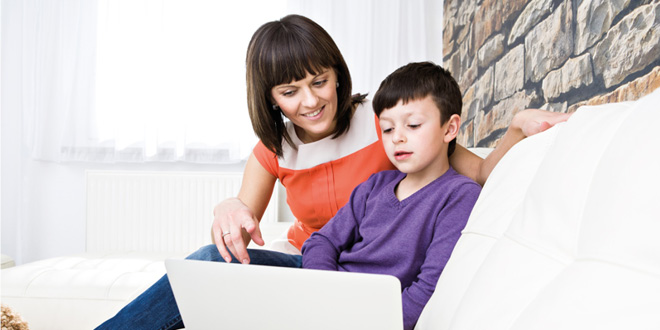 This year it's estimated that three quarters of children have asked for a tech-based Christmas present, with smart phones, tablets and laptops named as the festive must-haves.
If you're understandably wary about buying your child a gift with easy-internet access, don't despair. We spoke to Laura Jennings from Childnet International, an organisation that works with schools, parents and children to make the internet a great and safe place for our kids, to hear their top tips regarding internet safety:
"The internet is an amazing resource which enables children to connect, communicate and be creative in a number of different ways, on a range of devices," Laura explains. "With such a diverse range of services and devices, it can be a challenge to keep up to date with how children are using technology. Although children may seem literate and confident in their use of technology, parents have the experience and life skills and so, have a key role to play in ensuring young people are safe online."
"Last academic year we spoke to 29,000 primary and secondary aged children, hearing about what they like to do online and giving them practical advice about how to stay safe," Laura continues.
"Children have told us that their parents or carers are their number one person to turn to for support online, so it is important for parents to know how to respond and also to be comfortable in setting boundaries for their children."
So, just how can we do this?
Talk about it
"The best way to keep your family safe online is to engage with your child's digital life and regularly talk to them about staying safe online," the Childnet spokesperson said. "To support parents in having these conversations we have conversation starters and a family agreement template on our website at www.childnet.com/parents-and-carers/have-a-conversation. "The template provides advice and a framework that will help families set clear expectations for positive and safe internet use."
For those with younger children parents can download Childnet's free leaflet; Keeping Young Children Safe Online which contains helpful advice and top tips.
Be there
"Make sure your child knows they can turn to you if anything upsets or worries them online. Our Supporting Young People Online leaflet has tips on how to reinforce the 'Tell someone' message, a message that can help children to feel confident to ask an adult for help if something or someone upsets them online."
Know the tools
"There are ways in which parents and carers can help reduce the chances of children seeing inappropriate content online," Laura explains. "The UK Safer Internet Centre's Parents' Guide to Technology has more information about how to set up parental controls on devices and can be found at www.saferinternet.org.uk."
Share safely
"Many children love to use social networking sites so teach them about protecting their personal information by thinking about what they are sharing and who they are sharing it with. Our leaflet Young People and Social Networking Sites offers a guide for parents and carers about the safe and responsible use of social networking sites."
For all the information you need to keep your child safe online visit: www.childnet.com/parents-and-carers