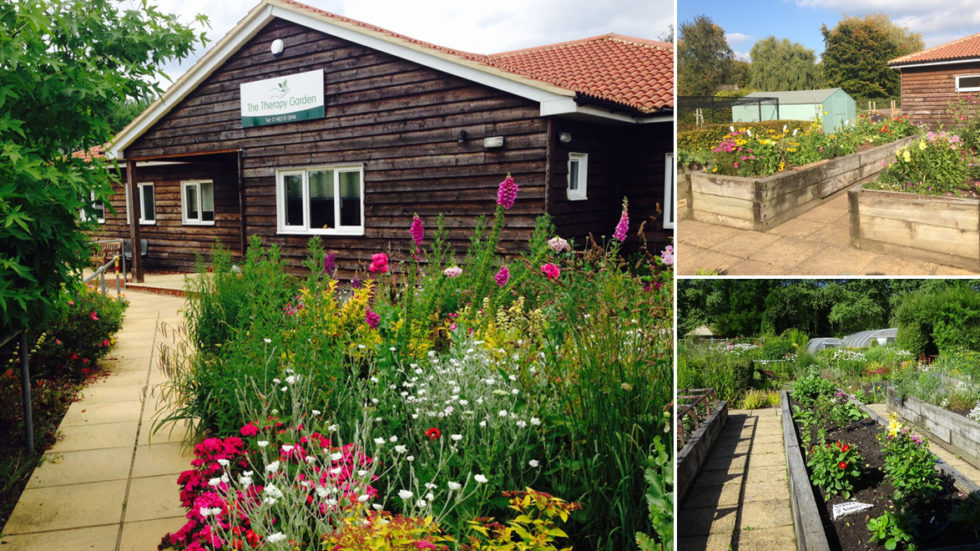 The Therapy Garden is a horticulture and education charity using gardening to generate positive change amongst people. They work with adults and teenagers with a range of learning difficulties, physical disabilities and mental health challenges, as well as offering school-age teenagers interventional education opportunities.
Based in the village of Normandy, Surrey, the charity was established in 1998 by a resident with the aim of using the healing power of horticulture to connect with vulnerable members of the community.
Some people use gardening as a way of calming, and a few hours in the garden can leave you tired but somehow renewed inside. Recent research from the National Gardens Scheme revealed more than a third of the people said being in a garden makes them healthier, while 79% believe access to a garden is essential for quality of life.
The Therapy Garden is an idyllic and peaceful one-acre site at the heart of the picturesque village of Normandy. The garden has received prestigious awards such as the Guildford in Bloom gold award as well as scooping Surrey Wildlife's Garden Gold award.
The tranquil garden has been designed with accessibility in mind and includes wheelchair-friendly pathways, raised vegetable and flower beds, sensory areas and quiet spaces. Activities take place in their heated classroom or their centre, and there is a refreshment area.
At the Therapy Garden, there are different projects available for gardeners – The Green School that offers secondary school age students with additional educational needs, the opportunity to achieve extra qualifications while being active outdoors.
As well as qualifications, students gain practical, hands-on skills like learning to grow plants and vegetables from seeds to harvest and how to work in a team. Students take part in a range of horticultural activities such as growing, harvesting, maintaining gardens and selling produce in their shop – they work with horticulturists and volunteers to develop social skills and gain confidence.
The Cultivating Skills project offers social and therapeutic horticulture to adults with a range of physical disabilities, learning difficulties and mental health challenges such as depression and anxiety. Attendees take part in a range of activities at their own pace, in a peaceful and supportive environment.
The relationship between gardening and human health and wellbeing is widely acknowledged, and in recent years, there have been increasing calls for social and therapeutic agriculture to be prescribed by health professionals.
The Therapy Garden could not exist without their dedicated team of volunteers. They have varied responsibilities within the charity including, supporting students and clients working in the garden on projects, garden maintenance, carpentry and building maintenance tasks, fundraising support and volunteer drivers and chaperones to transport students and clients to and from the garden.
The Therapy Garden volunteers recently received the Queens Award for Voluntary Service for 2017 – this is the highest award achievable within the voluntary sector and it is the equivalent to an MBE.
[box type="info" align="" class="" width="600″]If you would like to know more about the Therapy Garden or how to become a volunteer, visit:
www.thetherapygarden.org
.[/box]