Voluntary Action Reigate & Banstead Wins High Sheriff Of Surrey Award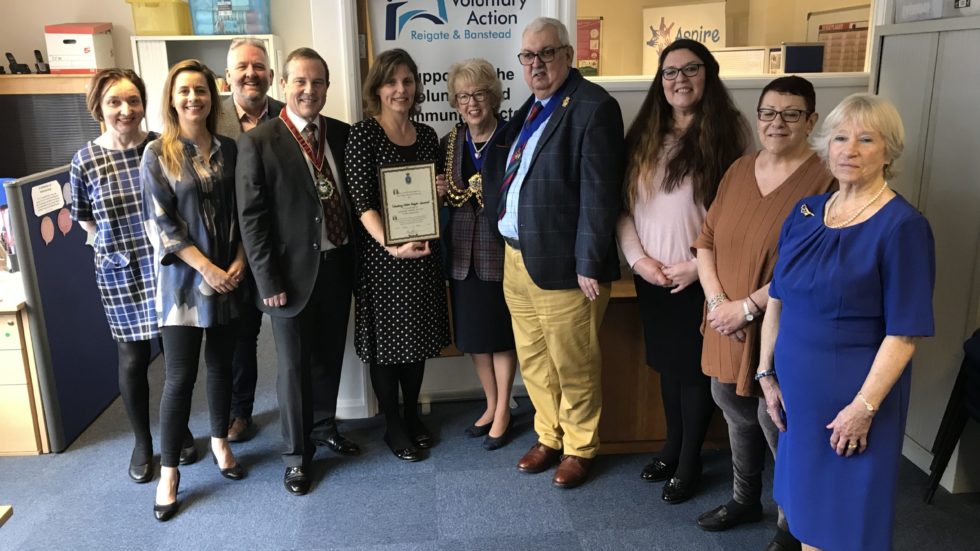 Voluntary Action Reigate & Banstead Wins High Sheriff Of Surrey Award
Voluntary Action Reigate & Banstead (VARB) has been presented with a High Sheriff Award by The High Sheriff of Surrey, Jim Glover OBE in recognition of its service to the community.
Mayor of Reigate & Banstead, Cllr Dorothy Ross-Tomlin nominated VARB for the award  and was present when chief officer, Nina Porter accepted the award from the Surrey High Sheriff.
VARB is a charity which supports the voluntary, community and faith sector in the borough of Reigate & Banstead assisting with volunteer recruitment, promotion and placement support.
Its Aspire Project is designed to help and support anyone who faces challenges in their life
into volunteering, such those with physical or mental disability and also supports ex-offenders.
For the past three years, VARB has also organised a festive feast on Christmas Day for anyone facing Christmas alone which has been supported by local business and public donations.
For more information about VARB and its work, visit: www.varb.org.uk, or call: 01737 762115.