Transform your life at the Koorana Centre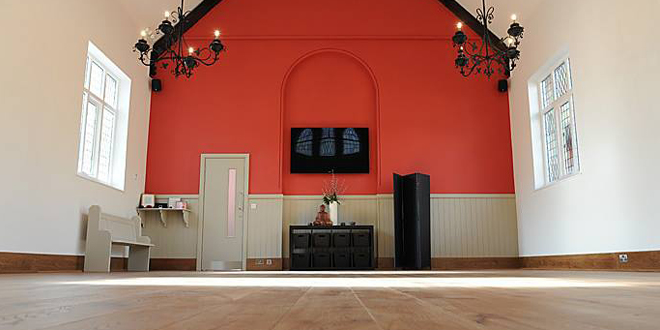 The Koorana Centre is a tranquil space in Ardingly that hosts an exciting programme of health and wellbeing activities including yoga, tai chi, pilates and meditation led by experienced practitioners.
The centre, once a chapel, has been refurbished from one quiet space into another. It's a hub where people can reconnect and nurture themselves – becoming mentally, emotionally and physically balanced.
Throughout the week there are regular classes and workshops. The therapy rooms offer a range of treatments and is open every Friday 3.00pm – 6.00pm for the Vitali-Tea events, including a free talk or class.
The centre hosts vitality days and wellbeing markets too, so if you're craving a bit of relaxation time, away from your busy schedule, it's the perfect place to go.
The origins of the word 'Koorana' are aboriginal, and means to 'bring forward the children'. It inspires visitors to connect to creativity, spirituality and wellbeing.
Gabrielle Anya Rafello, a specialist in sensitivity who has run the centre for the past five years, says that individuals who are particularly sensitive may struggle with challenges that face them.
She launched the Koorana Foundation this year, which aims to empower vulnerable children and young people and provide the tools they need to develop confidence and self-esteem and feel happier and healthier.
Her programme includes a weekly creativity session for parents and carers with teenagers and also a three-day course for parents, carers and teachers, creating an environment where young people can thrive.
"Sensitivity is a gift, which can be extremely challenging if not managed properly. The expectations of the education system are making it increasingly difficult for children and young people to stay in balance.'
"Creative practices are also being removed from the curriculum, and this will result in children and young people becoming unbalanced in many ways" Gabrielle said.
"The tools that participants take away from the centre are very easy to learn and help them to feel relaxed, calm and at ease in any situation."
Gabrielle provides free 30-minute sessions via Skype or telephone to anyone that needs advice. You can book this by email via info@thekooranacentre.com or telephone 01444 810295. More details can be found at: www.thekooranacentre.com
By Georgia Lambert