Spotlight: Horsted Keynes Royal British Legion (Women's Section) – Marmalade Morning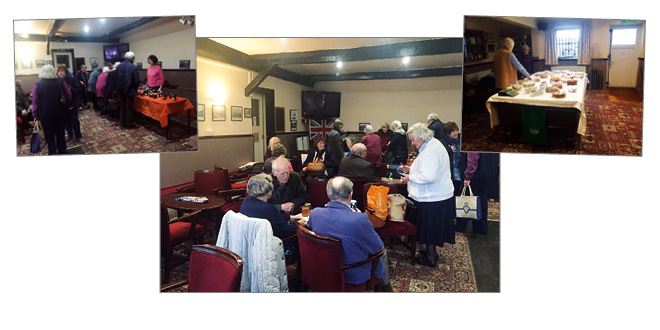 The Horsted Keynes Royal British Legion (Women's Section) is an active group with almost 40 members and completely separate to the Horsted Keynes Royal British Legion (Men's Section) which has in recent years seen its members fall in number. Carole tells me, the women's section which is more than 50-years-old is as popular as ever in contrast to the men's section decline, "Sadly, the men's section's membership has dwindled to a handful of members."
The women's section which meets at the Horsted Club in the village started life in the 1960s; Carole says: "Our branch has been in existence since the end of July 1962 when 11 members joined, forming the inaugural committee."
Today, the organisation holds events to raise much-needed funds for service personnel and their families and in February members held a marmalade morning. The morning which was open to all villagers was the fourth such event organised.
Carole says: "Members made dozens of different marmalades and preserves but there is no competition between the marmalade makers. Our President Mrs Hal Clarke makes the bulk of it and the concept of the marmalade morning was hers."
Although the main sale was the marmalade and preserves, Carole goes on to say that a generous amount of homemade cake was also sold. Tea and coffee was also available to visitors on the morning.
Summing-up the morning, Carole says "A steady stream of people attended the morning and a grand total of £625 was raised. Without a doubt, this was the most successful marmalade morning with record sales and a record number of visitors through the door".
"The money raised on the morning was sent to the Royal British Legion Benevolent Fund which aims to provide funds for service personnel and their families" Carole added and already the organisation is looking forward to arranging the next marmalade morning.
The Horsted Keynes Royal British Legion (Women's Section) meets on the third Tuesday of every month at 2:30 pm at the Royal British Legion in the village apart from June and August.
For more details about the organisation, contact Mrs L Allan, Secretary on (01342) 811055.
By Jacob White
[box type="shadow" align="aligncenter" class="" width="600″]
Want to be part of a future spotlight?
If your group or organisation is in the RH16 or RH17 postcode area let me know and you could feature in a future edition of RH Uncovered!
Email me: featuresdesk@mantramagazines.co.uk and put RH16 & RH17 Uncovered Spotlight in the email subject[/box]