Review: MOD in Brighton is 'ideal place for a pizza the action'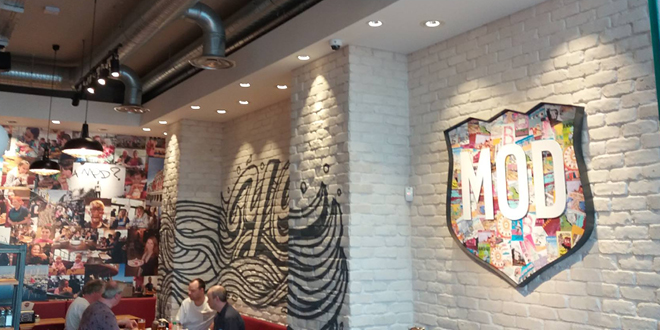 Enjoying delicious dishes, fresh, comfy dining area at one of Brighton's newest restaurants.
With delicious dishes, fresh, comfy dining area and outdoor seating MOD Brighton is the ideal place for you to grab a pizza the action this late summer!
The Seattle-based chain has just opened its second UK branch – a stylish new restaurant in the city's marina overlooking the waterfront, I paid a visit to see what it had to offer.
My dining partner and I arrived at the vibrant new restaurant and were greeted by the energetic duty manager Katie Miller who has head-hunter to work for the US chain.
The restaurant is unlike any other pizza restaurant I had visited – it was classy from the get-go, in a casual setting we could look-over the menu while watching the chefs at work.
The restaurant is spacious and modern with diners going-up to the counter to order their desired pizza, for a starter we opted for garlic strips, complimented with cheese and rosemary.
An American-classic is alive and well in the restaurant with free refills on soft drinks – on offer was a wide-range of lemonades; I opted for the fruity and refreshing strawberry lemonade.
For our mains we choose a Tristan pizza (mozzarella, asigo cheese, roasted red pepper, mushrooms and pesto) and a Jasper pizza (mozzarella, mushrooms, spicy Italian sausage and MOD red sauce).
[tie_slideshow] [tie_slide]
[/tie_slide] [tie_slide]
[/tie_slide] [tie_slide]
[/tie_slide] [tie_slide]
[/tie_slide] [tie_slide]
[/tie_slide] [/tie_slideshow]
The pizzas were packed with ingredients as fresh and vibrant as the décor! The tasty pizzas were served fast, efficient and without hassle with the MOD squad on top form.
The MOD squad, as the staff members are known are paid higher than average than many in the hospitality industry and the company in the US is well-known for offering ex-offenders jobs.
For dessert, my dining partner and I choose cinnamon strips with two dips – cinnamon glaze and a chocolate sauce. Yes, they were as good as they sound! Again, fresh and tasty served fast!
Without a doubt, if you're looking for someone close to home for top-quality, fast pizza then MOD is your ideal place to find it and this late summer, make the most of the outdoor seating!
[box type="shadow" align="" class="" width="600″]
Address: 1, The Boadwalk, Brighton Marina, BN2 5ZB
Telephone: 01273 699069
Opening hours: Monday – Sunday 11am – 11pm
Website: modpizza.co.uk/#mod-0
[/box]
By Jacob White