Meet The QVH's Mother & Daughter Feeling At Home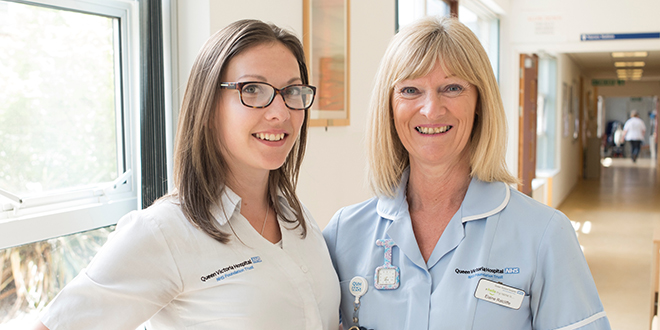 On Sunday, March 31, it is Mother's Day, an opportunity for offspring across Britain, no matter their age to give thanks to their mothers and motherly figures in their lives. One East Grinstead mother and daughter will be marking the day, but, day-in, day-out they feel at home at the town's Queen Victoria Hospital (QVH), so much so that they praise the hospital's staff who they liken to their extended family.
When Elaine Ratcliffe walked through the doors of QVH in the 1970s to visit a friend who was a patient, little did she know that years later she would return to the hospital and start a family trend. More than 40 years on, Elaine started work at East Grinstead's pioneering hospital, before her daughter soon joined her on the payroll.
Elaine, a healthcare assistant at QVH for the past eight years, says of her career journey so  far: "I'd always wanted to be a nurse but when I was growing up women weren't encouraged  to have careers. So, at 14 I started serving tea in a nursing home and that's when I truly  realised, I wanted to work with people.'
"In 2011, years later and after a couple of different careers, my passion for wanting to  make a difference was still there so when I was encouraged by a friend to apply for a role at Queen Victoria Hospital to become a healthcare assistant, I thought I'd give it a go. Now I can't see myself going anywhere else."
Elaine, who works in the hospital's Canadian Wing, working with adult patients, has become a dementia champion for the hospital and is progressing her career by completing a level 3 in healthcare clinical support. Her passion for making a difference has influenced her daughter Emily who has since joined the staff of QVH.
Speaking about joining QVH, daughter, Emily says: "The amount of times I went to the minor injuries unit as a kid I was destined to work at Queen Victoria Hospital really. "I'd listen to mum talking about work so often and then one day I had a lightbulb moment and realised that's where I needed to be too."
Elaine's daughter, Emily, who joined the hospital as a healthcare assistant, like her mum, but who has also experienced life in Peanut, the children's ward, as a ward clerk, said: "For me there's a real buzz working here, no two days are the same and the reward you get from caring for patients is incredible.'
"Compassion and care is what QVH is good at – it's a unique place to work as we're just like one big happy family. Staff help each other and everyone acknowledges each other. If you're not sure of something one of the staff or a consultant will take the time to explain and that's really important."