Make something special for your loved one this valentines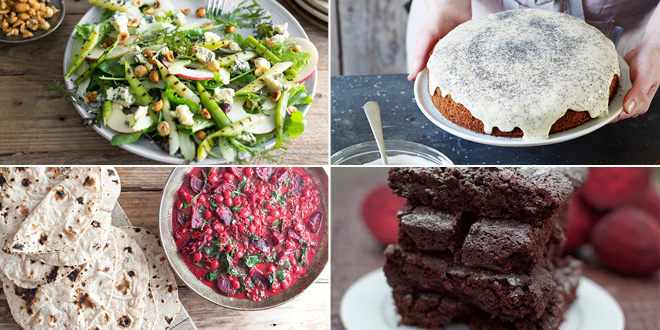 [one_half]Starter[/one_half][one_half_last]Main Course[/one_half_last]
[one_half]
Grilled Leek & Blue Cheese Salad with Apples, Celery & Hazelnuts
Serves 4, prep 15 mins, cook 10 mins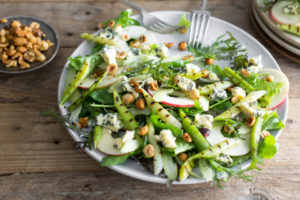 [toggle title="click for ingredients" state="close"]
3 Small leeks
1 tbsp Dijon mustard
1 tbsp cider vinegar
3 tbsp olive oil
40g hazelnuts, toasted & skinned
2 celery sticks
2 apples
100g salad leaves
100g blue cheese, crumbled[/toggle]
As long as you take care of the leeks, the rest will take of itself. Make sure they are well cooked before griddling; the process is more about adding flavour than cooking. It takes so little time to mark them – too long, and they'll burn and turn bitter. The other components can be sliced, diced or crumbled however you see fit. You could try switching the apples for pears, or using walnuts or pecans in place of the hazelnuts.
[toggle title="click for method" state="close"]
Put a pan of salted water on to boil. Trim the flared leaf tops away from the leeks so you are just left with straight lengths.
Poach the leeks in the boiling water for about 8 minutes, until they are easily pierced with a knife tip. Remove them from the pan and allow to cool.
Put a griddle pan on a high heat. Peel away the top layer or two from the leeks; they will have become overcooked and water-logged. Spilt the leeks in half lengthways, and slice into 3cm pieces.
When the griddle is very hot, cook the leeks for 20-30 seconds a side; enough to mark them, but not so much that they start to burn. Remove and season with salt.
Make the vinaigrette by whisking together the mustard and vinegar. Whisk in the olive oil a small bit at a time, until you have a thick, emulsified dressing. Season with salt and pepper.
Break the hazelnuts into coarse pieces. Dress with a tiny bit of oil and a pinch of salt. The oil helps the seasoning to stick.
Thinly slice the celery at a sharp angle. Core the apples and slice them into thin discs.
Throw the salad leaves, leeks, apple and celery together with the dressing. Pile artfully onto a serving dish and scatter over the hazelnuts and blue cheese.
[/toggle]
[/one_half][one_half_last]
Balinese Beetroot, Spinach & Chickpea Curry with Chapatti
Serves 2, prep & cook 45 mins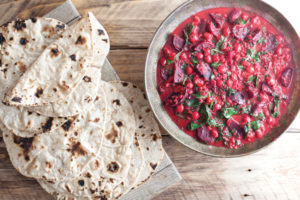 [toggle title="click for ingredients" state="close"]
500g beetroot
1 teaspoon cumin seeds
1 teaspoon caraway seeds
salt & pepper
oil for roasting & frying, e.g. sunflower
200g baby spinach
1 small red onion
2 garlic cloves
50g fresh ginger
2 lemongrass stalks
1 red chilli
½ tablespoon turmeric
25g cashew nut pieces
1 teaspoon sesame seeds
Handful of fresh coriander
1 tablespoon dark brown sugar
1 400ml tin coconut milk
1 lime
200g strong white bread flour, plus extra for dusting
100g wholemeal bread flour
olive oil
1 tin chickpeas
[/toggle]
Hopefully you'll take two great ideas from this recipe to use again. The first is a Balinese curry paste. It starts with the usual suspects, but is enriched with cashews, sesame and coconut. Its flavours would work well with many different veg.
The second is a foolproof flatbread recipe. They'll puff up and blister in about 30 secs. If you have gas at home, then try running them across the open flame a few times after you've cooked them in the pan. It creates some nice charred edges that add to the flavour.
[toggle title="click for method" state="close"]
Preheat your oven to 180˚C/Gas 4. Wash, peel, halve and cut the beetroot into thick slices, approx. 1-2cm. In a baking dish or roasting tin, toss the beetroot with the cumin and caraway seeds and 2 tbsp oil. Season with salt & pepper. Roast for 20 mins, stirring after 10 mins.
Meanwhile, wash the spinach well to remove any grit. Drain and strip the leaves off any tough stalks. Discard the stalks and roughly chop the leaves.
Peel and roughly chop the onion, 2 garlic cloves and ginger. Strip the outer, tougher leaves off the lemongrass stalks, then roughly chop them. Slice the chilli (remove the seeds for a milder heat if you prefer).
Add all the ingredients in step 3 to a food processor with the turmeric, cashew nut pieces, sesame seeds, dried coriander leaf, sugar and a good pinch of salt.
Tip the coconut milk into the processor. Squeeze in the juice from the lime. Blend until smooth. Tip the contents into a saucepan. Heat until simmering, then cook for 10 mins.
While the curry simmers, make the chapatti dough. In a large bowl, combine both flours and ½ tsp salt. Add 175ml of warm water from the tap and 1 tbsp of olive oil. Knead for a couple of mins to bring it all together into a ball of dough, then allow it to rest for 5 mins.
Drain and rinse the chickpeas. Add the beetroot and chickpeas to the curry sauce and simmer whilst you make the chapatti.
Divide the chapatti dough in to 6 roughly equal balls. Dust your work surface and rolling pin with flour. Squash the balls into discs in your palm, then use a rolling pin to roll them into thin rounds.
Put a frying pan on the hob on a full heat. Cooking in batches, place the chapattis into the heated (dry) frying pan for a few mins each side. You want them to puff up and brown slightly on each side (see cook's notes).
When all the chapattis are cooked, stir the spinach into the curry and cook until wilted. Check the seasoning and serve the curry with the chapatti.
[/toggle] [/one_half_last]
[one_half]Desert 1[/one_half][one_half_last]Desert 2[/one_half_last]
[one_half]
Courgette, Lemon & Poppyseed Cake
serves 12, prep 20 mins, cook 60 mins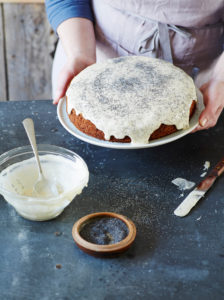 [toggle title="click for ingredients" state="close"]
for the cake:
2 tbsp poppy seeds
finely grated zest of 2 lemons
75ml whole milk
250g unsalted butter, plus a little extra for greasing the tin
250g light brown soft sugar
4 eggs, yolks & whites separated
½ tsp almond extract
200g gluten-free self-raising flour (Dove's Farm make a good organic one)
75g ground almonds
250g grated weight of courgettes
for the topping:
300g icing sugar
1½ tsp finely grated lemon zest
30g unsalted butter
2 tbsp lemon juice
1 tbsp poppy seeds
[/toggle]
This cake has a fresh lemon and almond flavour. It's gluten-free, but you could use ordinary self-raising flour if you prefer. The courgettes stop the cake drying out; it keeps well in an airtight container.
[toggle title="click for method" state="close"]
Preheat your oven to 180˚C. Lightly grease a 23cm springform cake tin and line with baking parchment.
Warm the milk, poppy seeds and lemon zest in a small pan for a couple of mins, then remove from the heat and leave to cool.
Cream the butter and sugar in a large bowl until pale, light and fluffy (an electric hand mixer makes life easier).
Beat in the egg yolks, one at a time. Stir in the almond extract, flour and ground almonds. Fold in the courgettes and cooled milk.
Whisk the egg whites in a separate clean bowl to stiff peaks. Add a large spoonful to the courgette mixture and stir in, then gently fold in the rest, keeping as much air in the mixture as possible.
Pour into the tin. Bake for approx 60 mins, depending on your oven, until firm to the touch; it should spring back when you lightly press the middle.
Cool in the tin for 15 mins, then turn onto a wire rack to cool completely.
To make the icing, sift the icing sugar into a bowl. Add the lemon zest. Melt the butter and pour over the icing sugar.
Add the lemon juice and stir together quickly, adding a splash of cold water if needed, until you have a thick but spreadable icing.
Use a pallet knife to spread over the cake.
Leave for approx 30 mins if you can, so the icing can set a little, before serving sprinkled with poppy seeds.
[/toggle] [/one_half][one_half_last]
Chocolate Beetroot Brownies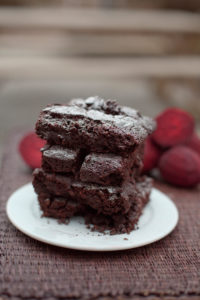 [toggle title="click for ingredients" state="close"]
250g dark chocolate, chopped
200g unsalted butter, cut into cubes
1 tbsp Tia Maria or other liqueur (optional)
250g beetroot, cooked
3 eggs
A drop of vanilla extract
200g caster sugar
50g cocoa powder
50g rice flour (ground rice)
1 tsp gluten free baking powder
100g ground almonds
[/toggle]
This surprising combination results in an intensely chocolately taste and a lovely moist texture – and not a hint of beetroot after baking. Since there's a veg element, you can surely consider this healthy. Another bonus is that the brownies are gluten free.
[toggle title="click for method" state="close"]
Preheat oven to 180°C/Gas 4. Use baking parchment to line a rectangular tin, roughly 28x18cm.
Put the chocolate and butter in a large bowl and place it over a pan of simmering water, making sure the water doesn't touch the base of the bowl. Leave to melt, then remove from the heat and stir in the Tia Maria, if using.
Purée the cooked beetroot in a food processor. Add the eggs one at a time, followed by the vanilla and sugar, and mix until smooth.
Sift the cocoa powder, rice flour and baking powder into a bowl and stir in the ground almonds. Stir the beetroot mixture into the melted chocolate and then fold in the dry ingredients.
Pour the mixture into the tin and bake in the oven for 30–35 minutes, until just firm to the touch. It's important not to overcook brownies; a skewer inserted in the centre should come out slightly sticky. Leave to cool in the tin and then cut into squares.
[/toggle] [/one_half_last]