Local Pilot Launches Children's Books: Meet Pilot Ollie and Pilot Polly!
For many of us (especially in our younger years), the idea of being a pilot is very exciting indeed – can you imagine flying a plane and jetting off on a far flung adventure?
One local pilot, Rob Johnson, who grew up in Crawley Down and now lives in Piltdown, Uckfield, has just self-published his very own children's books; all inspired by the questions his own children have asked him, about his trips.
"The book idea is based on the stories I used to tell my two children when I came back from a trip," the British Airways Airbus A320 Captain, explained. "They always wanted to know where I'd been, what I'd seen and what I'd had for dinner. I wrote a few of the stories down but never thought of publishing them."
"One evening over a glass of wine or two, I was talking to my neighbour about the stories. He loved the idea and persuaded me to publish them. The conventional route of using agents and publishing houses was too expensive so we decided to self-publish. We started the company Plane Characters Limited and the rest is history."
The Pilot Ollie and Pilot Polly series, are all based on the illustrated character's "amazing adventures" around the world and aim to not only educate, but also inspire children to travel.
[tie_slideshow] [tie_slide] Pilot Ollie

  [/tie_slide] [tie_slide] Pilot Polly

 [/tie_slide] [tie_slide] Freddie Fueler

[/tie_slide] [tie_slide] Larry Loader

[/tie_slide] [tie_slide]Molly

[/tie_slide] [tie_slide] Mike

[/tie_slide] [tie_slide] Chelsea Checker

[/tie_slide] [tie_slide] Megan

[/tie_slide] [tie_slide] Woody Weatherman

[/tie_slide] [tie_slide] Tara Turnaround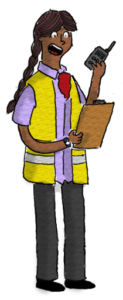 [/tie_slide] [tie_slide] Alfie Engineer

[/tie_slide] [tie_slide] Chris Controller

[/tie_slide] [/tie_slideshow]
"My aim with the books is to take the children on a journey, share the experiences I have been lucky enough to have had, inspire them to fly and travel and
subtly educate them about pilots, weather, flags, foods and famous places," Rob, who is also a governor at Fletching Primary School, where his two children are pupils, says.
"Having done numerous school visits I love watching their faces light up when I talk with them about flying and travel."
The beautifully illustrated books are focused on those aged eight years and below, with hidden objects to find and use of high frequency words
that reception through to year two children will be able to read and that those in year three and year four, will be able to read, unaided.
Rob currently has three books; Pilot Ollie and Pilot Polly Come Fly With Us, Pilot Polly's Amazing Adventures Madrid and Pilot Ollie's Amazing Adventures Rome, all on sale on Amazon, as well as in Uckfield's Sussex Stationers, The Bookshop in East Grinstead and The Mint House Shop in Hurstpierpoint.
He has just finished Pilot Polly's Amazing Adventures New York too, with plenty more stories in the pipeline. The company are also creating personalised story books incorporating your choice of child's name into the story – a great Christmas gift idea!
Of course, one question we just had to pose to the experienced pilot was: which does he find scarier; flying a plane or hearing no holds barred feedback from young readers? Guess which one he opted for?
"This Friday I am doing a talk in a school," Rob told us, when we spoke to him back in October. "Over a couple of hours I will have an audience of 240 kids. This scares me way more than anything to do with flying. In fact there is nothing about flying that scares me. I even enjoy a bit of turbulence!"
To find out more about Pilot Ollie and Pilot Polly and for free colouring in downloads, visit: www.planecharacters.com.