Lions Swimarathon To Make A D.R.E.A.M Come True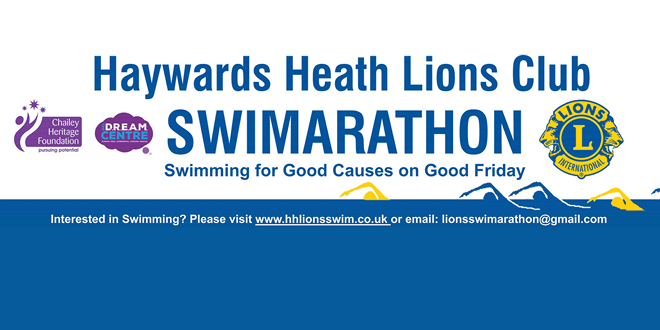 Haywards Heath Lions Club's Swimarathon, now in its 34th year, is an annual event held at the Dolphin Leisure Centre on Good Friday.
Teams of six swimmers are invited to swim in a 55-minute-long relay to raise money for a cause of their own choice and for the Lions' selected cause. This year, the Lions have chosen to support Chailey Heritage Foundation in their new project – the D.R.E.A.M. Centre.
The D.R.E.A.M. Centre Appeal is a very ambitious plan to create a modern and vibrant indoor activity space large enough for children and young people aged three to 25 with a range of complex disabilities to participate in a mixture of arts and physical activities.
Well-known for its pioneering work, Sussex-based charity Chailey Heritage Foundation is committed to making the D.R.E.A.M. Centre a reality as soon as possible so that these young people can benefit from new experiences and get the best out of life.
The centre features a league recognised sports court for wheelchair football and power chair driving, a raised stage for drama, a trampoline for rebound therapy, a space for celebrations as well as a four-dimensional immersive sensory learning environment.
Swimarathon teams always find the overall event well organised and enjoyable. Not only is it a fantastic opportunity to raise money for your own chosen cause, you will be helping to raise vital funds for the Chailey Heritage Foundation while having a great time!
Teams can be formed by an organised group or you could rope in your friends. Previously, teams have including family members, sports clubs, churches and youth groups.
It is compulsory each team has an adult non-swimmer to be in charge of recording lengths completed.
There is room at the leisure centre for 66 teams to participate in the relay throughout the day and the total sponsorship that has been raised for each team will be halved evenly between the D.R.E.A.M. Centre Appeal and the participating team's chosen cause.
There are no age restrictions, but swimmers must be able to complete several lengths. Each team is allocated a lane and a start time – each swim will last 55 minutes in a relay style. All swimmers will be awarded a medal, and there are trophies up for grabs!
The current event record stands at 250 lengths swam in 55 minutes. Last year, the total of money raised came to a whopping £23,492.71 with the Lions' chosen causes, Neil's Club and Kangaroos
No Limits given £7,500 each to support their projects.
[box type="info" align="" class="" width="600″]To enter the Swimarathon, visit:
www.hhlionsswim.co.uk
For more information about the Chailey Heritage Foundation D.R.E.A.M. Centre Appeal, visit:
www.thedreamcentreappeal.org.uk/about
[/box]
By Georgia Lambert