The Jennings Series and a tribute to the Buckeridge family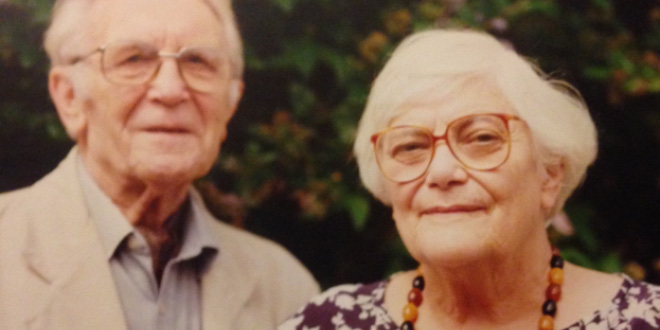 A tribute to Eileen Buckeridge (1921 – 2015)
Last autumn I was incredibly lucky to meet and interview the remarkable and formidable Eileen Buckeridge; writer, educational campaigner and wife of the late children's author behind the famous Jennings series – Anthony Buckeridge. Despite her years, she showed no signs of slowing-down.
The Jennings series, a collection of 23 novels written by Anthony were a humorous romp through the school day escapades of J.C.T. Jennings, a schoolboy at the imaginary Linbury Court Preparatory School and whose fictitious family – the Jennings, supposedly lived in the town of Haywards Heath.
The first book, 'Jennings Goes to School' appeared in 1950 with new titles regularly published until the 1970s. 'Jennings at Large', published in 1977 was the only novel to feature Jennings during the school holidays. Two more followed in the 1990s, 'Jennings Again' in 1991 and 'That's Jennings' in 1994.
Jennings appeal was not confined to Britain, many of the novels were translated, although often the character's name was not retained; in France, Jennings' name was changed to "Bennett"; in Norway he was known as "Stompa" and in Brazil, the character's name became "Johnny".
According to Anthony Buckeridge, who told BBC reporter Michael Crick, the fictional Jennings, J.C.T. (John Christopher Timothy) Jennings (son of a businessman, whose home is in Haywards Heath in the stockbroker belt) had been modelled on a schoolfriend, Diarmaid Jennings (1913–2009).
For Anthony Buckeridge, Jennings is good-natured and well-meaning, but a tendency to act on impulse results in him getting into trouble frequently which made him an instantly likeable character for children's literature and one which would make him popular for the mischievous everywhere.
For critics, it's the inventive slang vocabulary and wordplay that give the Jennings series their enduring appeal – "Don't quibble. You've made a frightful bish and you're about as much use as a radio-active suet pudding." This example of Jennings to his long-suffering friend Darbishire.
In 1962, Anthony Buckeridge met his second wife, Eileen Selby. They relocated from London, settling in rural Sussex where Anthony continued to write and also appeared in small non-singing roles at Glyndebourne. In 1964, they had a son, Corin who is now a composer in London's West End.
Following Anthony's death in 2004 Eileen worked tirelessly to preserve the legacy of her late husband's work and despite moving into a nursing home, she continued to take an active interest in many things, not least the annual Jennings enthusiast meetings which took place each year.
Eileen attended meetings across the South of England, travelling by ambulance, playing a keen role in the meetings and it is said that she would be quick to admonish any speaker who got even the slightest details wrong about her late husband's Jennings series of which she was so proud.
Eileen passed away on Saturday December, 19th 2015 at the age of 94 after a short illness. Her funeral took place on 7th January, 2016. She is buried beside Anthony in Barcombe Parish Church. Both Anthony and Eileen leave a rich legacy of writing and children's literature.
By Jacob White
Photos courtesy of Corin Buckeridge