Horley's Daredevil Mayor Completes a Self-Imposed Marathon Challenge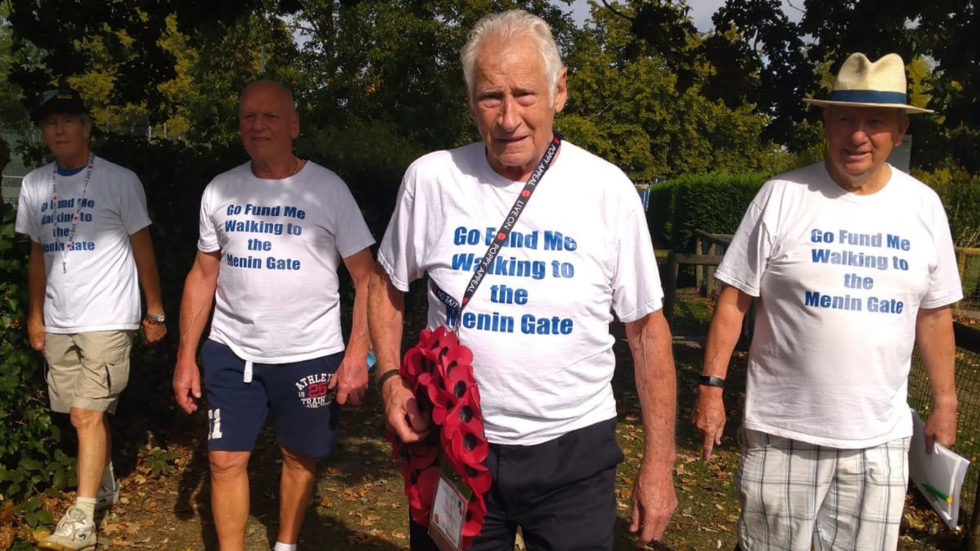 A determined veteran, who just so happens to be the mayor of Horley, has completed a self-imposed marathon challenge to walk the distance of Horley to the Menin Gate in Belgium to help his fellow comrades.
By Jamie Di Francescomarino
David Powell – who in recent years has skydived and abseiled in support of the Royal British Legion, has just finished a challenging 165-mile walk after weeks of hiking laps round the town's recreation ground in Brighton Road. It took 84-year-old, Councillor Powell just five weeks to complete the challenge, walking through gale-force winds and major heat waves.
David explained, "It's a bittersweet moment. Going back a few weeks I never thought I would be able to walk 165 miles, not in a million years. I started walking a mile and a half a day and by the end, I was walking eight miles a day and I can't believe how my health and breathing has dramatically improved. It turned me into a different person."
David and his team of walkers crossed the finish line to the applause of fellow servicemen and women and the borough's mayor Rosemary Absalom. Councillor Absalom said, "David is a real trooper and I fully expect that he will dream up something that will top this before long." The Mayor was recently appointed president of Horley's branch of the Royal British Legion and completed this fantastic walk to raise money to repair Horley's Royal British Legion headquarters, which is located at The Earl Haig Sports and Social Club after the Club was left in devastation from a fire in May this year.
David has had many an extreme fundraising idea, in 2014 he broke the world record as the oldest person to skydive from 30,000ft to raise money for the Royal British Legion, as well as several other skydives and abseils for charity.
We wish Councillor David Powell and everyone at Horley Royal British Legion and the Earl Haig Sports & Social Club the best of luck with raising enough money to repair the club and RBL headquarters. If you would like to support them please visit the Go Fund Me page here