When Haywards Heath got on track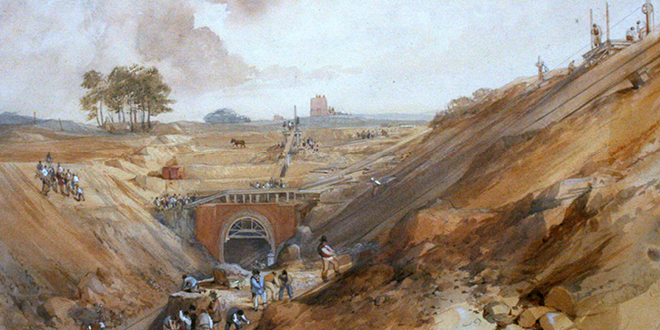 It's full-steam ahead as this year marks the 175th anniversary of Haywards Heath train station! In conversation with Sue Burgess of Cuckfield Museum.
With the train problems encountered by so many of the county's commuters, there's barely a day that passes without train travel hitting the headlines. Back in 1841, train travel was hitting the headlines for all the right reasons; it was full-steam ahead as the railway came to Mid Sussex.
To get a better understanding of what the coming of the railway meant to Mid Sussex, I spoke with Sue Burgess of Cuckfield Museum. The museum is devoting much of its display space for a three-month exhibition commemorating the opening of Haywards Heath railway station 175 years ago.
Haywards Heath train station opened to the travellers on July 12, 1841, but was only a terminus initially. Instability problems with the Folly Hill Tunnel and associated rail works just South of the station postponed opening the rail line through to Brighton until September 21, 1841.
As a result of this delay, train passengers had to rely on coach travel to complete their journeys beyond Haywards Heath southbound; this could be viewed as the replacement bus of their day! Something that train travellers of today will be sadly all too familiar with on their travels!
Cuckfield Museum is bringing this to life with a gallery of photos and maps to illustrate the social impact of the coming of the railway to Mid Sussex, and not least in Cuckfield, which as a result of the railway lost the London to Brighton stagecoach trade but gained many large houses.
The homes, built for, or acquired by professional men, were ideal for those who could now work in London but live in the country – the very first commuters. Mid Sussex soon became part of a growing commuter-belt in the towns of Mid Sussex as society went through a period of change.
Sue, said: "Paintings, images and contemporary accounts, are graphic reminders of what incredibly hard work was involved in creating, by an army of navvies, a sufficiently level railway track through the undulating Sussex landscape. Also, part of the display will be a previously unseen print.'
"Cuckfield Museum is grateful for help from the Bluebell Railway, the Burgess Hill Model Railway Club and collectors – all have been generous in providing various models, images and artefacts.
This display will appeal to anyone with an interest in railways in general and their impact" Sue added.
Sue Burgess is a curator at Cuckfield Museum, Queens Hall, High Street, Cuckfield, West Sussex, RH17 5EL. The Museum is open Wednesday 10 am – 12.30pm, Fridays and Saturdays
10 am – 4 pm, or by appointment.
You can contact the museum by calling 01444 473630, email info@cuckfieldmuseum.org or visit www.cuckfieldmuseum.org

The museum also has a number of loan boxes available for schools.
By Jacob White