From Twickenham To Tokyo For St Catherine's Hospice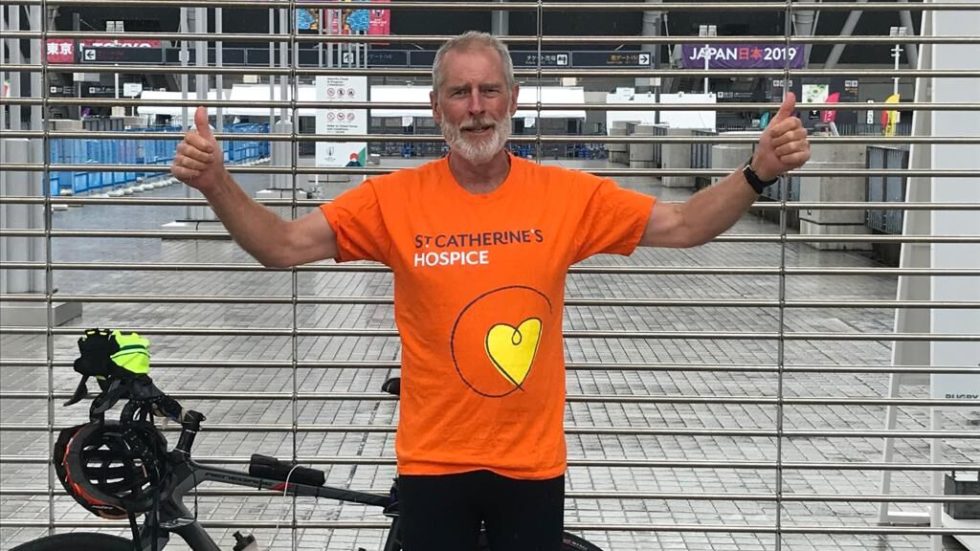 From Twickenham To Tokyo For St Catherine's Hospice
This month on Saturday, November 2, the Rugby World Cup winners of 2019 will be determined in Yokohama as the competition's final two go head-to-head in front of an expected crowd of around 72,000. Will England captain Owen Farrell lift the William Webb Ellis trophy? One Englishman has already much to celebrate in Japan after reaching the capital of the nation, Tokyo by bike in time for the tournament's start.
As the ninth Rugby World Cup reaches its climax, intrepid cyclist and triple cancer survivor Patrick McIntosh has already completed a challenge far greater than any of the on-field stars after cycling for more than four months across eight countries and covering 7,200 miles, crossing Russia in 90 days, following the Trans-Siberian Railway, before arriving by ferry in Japan and cycling onto Tokyo.
Patrick set himself the ultimate test of endurance, cycling from Twickenham to Tokyo in time for the opening game of the Rugby World Cup on September 20 to raise money to build a new home for his local hospice. So far, Patrick has raised more than £50,000, with this split between St Catherine's Hospice and World Cancer Research, with the total expected to climb as more pledges are fulfilled.
The 62-year-old has survived bowel, prostate and skin cancer and is determined to raise awareness of the fight against cancer. In May, Patrick set off from St Catherine's Hospice home in Malthouse Road, cycling towards Pease Pottage, which will be the site of a new, larger hospice building before heading to the home of English rugby, Twickenham Stadium in London, and cycling across Europe.
Speaking about the event to raise money for St Catherine's Hospice which provides end of life care and support to terminally ill people and their families, Patrick says: "It's been a bit hairy at times, but I've beaten three cancers and had major surgery. So, I was jolly well going to get to Tokyo come hell or high water. I am proud to have been able to do this and prove what's possible after cancer."
Patrick explains the cycling challenges he faced: "Generally, physically I've been absolutely amazed by how well my body kept up. It's an honour to support St Catherine's as part of my big adventure. As a cancer survivor I know the importance of their vital care. And I want more people to be able to have hospice care in the future so I'm raising money for St Catherine's new larger hospice."
"St Catherine's expert nurses, doctors and wider teams really helps people to stay positive and live well for as long as they can. Staying positive and living well were things I found crucial to my own survival. Despite being told the most depressing news I tried not to let it get me down and believed that I could still make the most of life. Now I hope I'll inspire and motivate others" Patrick adds.
Scrumming Together For St Catherine's
For more information about Patrick's amazing adventure follow him on Twitter: @KMGfoundation.  To donate to support Patrick and St Catherine's Hospice, visit: www.uk.virginmoneygiving.com/PatrickMcIntoshLifeCycle