Frankfurt Fundraiser Runs For Jigsaw (South East)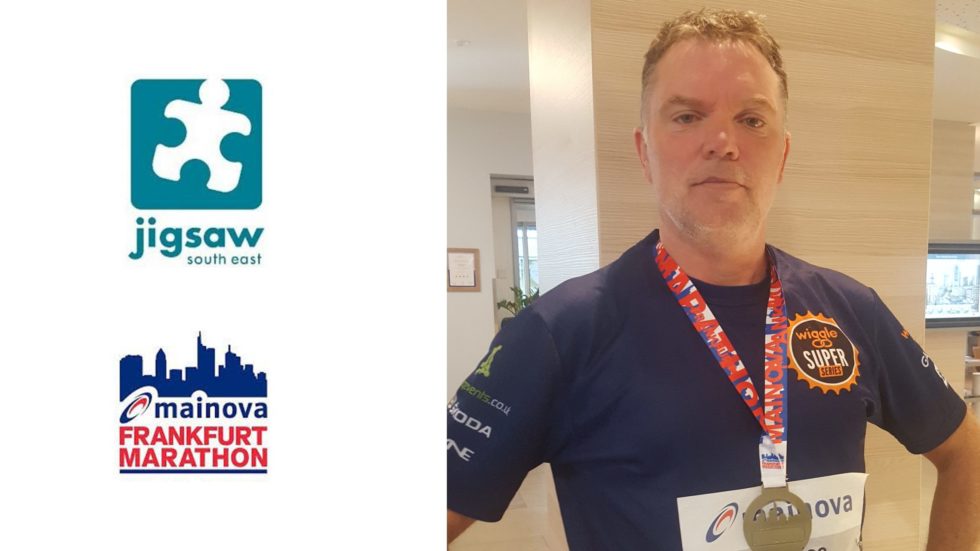 Frankfurt Fundraiser Runs For Jigsaw (South East)
A Surrey man who was determined to help an East Grinstead bereavement charity which provided support to his family more than a decade ago went the distance of more than 26 miles as a marathon runner by competing in the Frankfurt Marathon to raise much-needed money for the organisation.
How did you spend the autumn? Did you take it easy as the long days of summer dramatically turned to the short days of winter? Perhaps, some moderate exercise of autumn leaf sweeping? IT director, Fabrice Gouttebroze's from Thames Ditton in Surrey decided to put on his trainers and run his first marathon at the age of 50, taking on the Frankfurt Marathon to fundraise for East Grinstead-based Jigsaw (South East).
A keen River Thames skiff sculler, he had never run a marathon, so Fabrice followed a 16-week training programme to prepare to pound the German roads which form the Frankfurt Marathon which began in 1981. Fabrice, who ran for Jigsaw (South East) due to personal experience finished the race in Germany's fifth largest city within his pre-race goal, with a remarkable debut marathon finish time of 4:21:31.
Based at East Court Mansion in East Grinstead since 2012, Jigsaw (South East) offers support to children and young people who have a family member with a serious, life-limiting condition. It also provides grief support to children and young people who have experienced the death of a significant family member through illness, accident, suicide or murder through groups in Reigate, Guildford and East Grinstead.
Speaking about his marathon motivation and why he signed up, Fabrice, says: "I ran the longest race of my life to support bereaved children. Jigsaw (South East) made a tremendous difference to a close family member 12 years ago. Having participated in some of the group activities, I was touched by the families' stories we shared and always knew that the charity does a terrific job with limited financial means."
"My goal was to finish the race, injury free within my target time of 4 hours 15-25 minutes. It was very tough between 20 and 23 miles. It was raining, it was cold, and I was so tired, but there was no way I was going to give up having run for so long. With less than three miles to go I pretended that it was merely a matter of running a short and easy jog to the finish line. It worked" Fabrice says of the Frankfurt run.
The Frankfurt Marathon course starts on the Friedrich-Ebert-Anlage next to the city's iconic Messeturm, winding its way through the city's streets before concluding close to the Festhalle multi-purpose arena. As well as fundraisers, the event is open to elite athletes with the 2019 men's event won by Fikre Bekele of Ethopia in a time of 2:07:08, with Kenya's Valary Aiyabei winning the women's 2019 race in 2:19:10.
The Charity Helping To Put
The Pieces Back In
For more information about Jigsaw (South East)  and its vital work, visit  www.jigsawsoutheast.org.uk