Crawley Teacher Hannah Brings Up A Century Of Miles For The Air Ambulance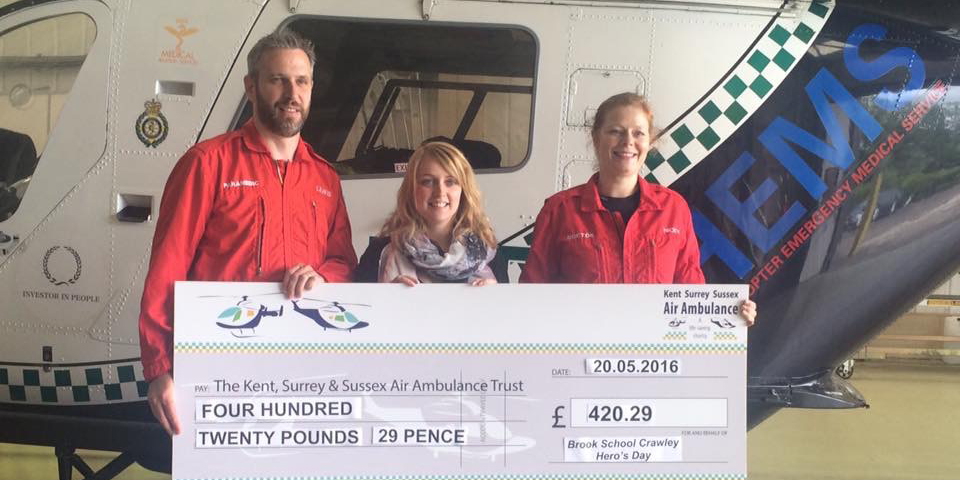 Crawley Teacher Hannah Brings Up A Century Of Miles For The Air Ambulance
How did you spend the Easter break back in April? Perhaps you enjoyed a leisurely long-weekend with your feet-up and enjoying sweet treats. One primary school teacher from Crawley ditched chocolate eggs and hot cross buns when school was out as she walked 100 miles on the route of the South Downs Way to raise much-needed money for Kent, Surrey & Sussex Air Ambulance, which three years-ago saved her life.
Whilst millions across Britain were enjoying a long-weekend at Easter, Crawley primary school teacher, Hannah Witham stepped out and put her best foot forward to raise money for Kent, Surrey & Sussex Air Ambulance (KSSAA), as part of a charity challenge, she set herself to mark her 30th birthday this year.
Hannah, who teaches at The Brook School in Maidenbower turned 30 last month completed a gruelling 100-mile charity walk along the picturesque South Downs Way, complete with five blisters, sore knees and what she describes as too many bruises to count as she hopes to raise £3,000 this year for KSSAA.
Hannah put her walking boots on for KSSAA, after the charity's staff saved her life, three years-ago she went into anaphylactic shock due to a nut allergy at a Christmas party where unwittingly to her, Hannah was served the wrong dessert – a chocolate brownie which contained ground almonds and walnuts.
Speaking of the incident, Hannah says: "The air ambulance was called when I wasn't responding
to paramedics. The doctors who came out told me they had landed from another job when they received the call to come out. They said a matter of five minutes and I wouldn't be here, I owe them my life."
Based at Rochester Airport, KSAA is an independent charity which last year alone, was called out to help more than 2,000 people in life-threatening conditions. The air ambulance crew never stop innovating and improving the care they provide to those who need it in the counties of Kent, Surrey and Sussex.
Speaking about her fundraising, Hannah says: "I am aiming to raise £3,000 in honour of the three years since they saved my life and the fact, I turn 30 this year. I am planning on doing three challenges over the year, so I wanted to raise £1,000 for my walk. However, my current total is already at £1,730!'
"The Air Ambulance gave me my life and so I wanted to celebrate it by seeing everything the South Downs had to offer. Also, everyone that knows me knows how unfit I am so I wanted something which would be a challenge for me in order to get more people to donate!" Hannah adds about her walk.
Help Hannah's Air Ambulance
Fundraising Take Off
Can you help Hannah's fundraising efforts? The sky is the limit for Hannah's charity walk fundraising for KSSAA, to donate, visit: www.justgiving.com/fundraising/hannah-witham 
Hannah is also blogging about her fundraising as well as about mental health connected with near-death experiences, for more information, visit: www.littleluckylife.co.uk