Crawley Down's Toby & Tim's Rickshaw Passage To India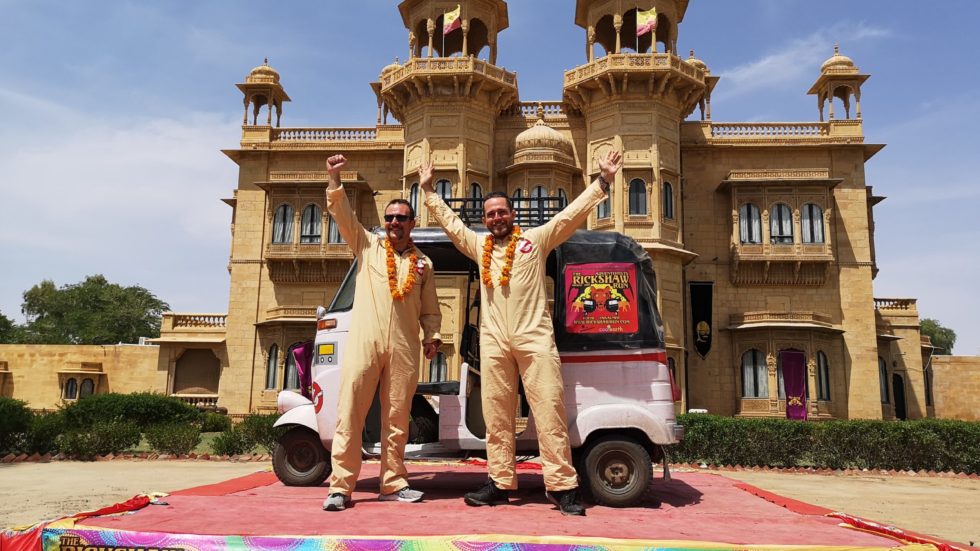 Crawley Down's Toby & Tim's Rickshaw Passage To India
Sussex brothers took on the ultimate adventure this August as they took part in a rickshaw run in India to raise money for two charities close to their hearts'. The duo, facing heat and monsoon conditions undertook their charity challenge in an auto-rickshaw decorated as the famous car from Ghostbusters as a throwback to their youth.
Brotherly love was the secret for a pair of Sussex siblings this summer as they overcame emotional, mechanical and physical breakdowns as they travelled to India to fundraise for two good causes. Toby Robinson, 44, a structural engineer who designed the new underground station at Battersea Power Station, and his 40-year-old brother, Tim, who served as the team mechanic and works for Siemens in Three Bridges maintaining the Thameslink Trains headed East for charities, Cool Earth and Mind.
The duo took on a daunting rickshaw run which would test the pair to the limit as they faced a range of weather conditions and terrains. However, the event had been an idea for the Robinson family for some time, it first came up about 10 years-ago on a skiing holiday with a group of other guests in the hotel discussing it. Since then the brothers have tried to find a gap when work and life allowed them to both to get away, before last November the pair booked their rickshaw run.
Toby and Tim took on their Asian adventure to fundraise for Cool Earth, the main charity behind the rickshaw run which helps rainforest communities, and for the pair, this is important with coverage of the destruction of forest habitats in Brazil. The brothers also decided to also raise money for Mind which works to raise awareness of mental illness and provide support, it is a cause important to their family, both charities received all money raised as the brothers paid for their trip.
The trip proved to be more than an average Indian takeaway, Toby says: "I look back more fondly on the trip the more time passes. It was an adventure, which was exactly what we signed up for. It was a little chaotic from the moment we landed in Mumbai. The severe flooding in the South East meant our connecting flight was cancelled with no hope of a new one for three days.'
"Because that meant we would miss the start we made the decision to get a train for the remaining 1250km, and when that was cancelled with 300km to go we took a bus, arriving two days later than intended but still in time for the launch and with a much better appreciation of how India worked!" Toby adds about the fundraiser which proved to be a trip of a lifetime for the pair.
The run had its challenges, Toby says: "We had breakdowns due to broken carburettors, failing head gaskets and loose spark plugs and in total spent two days by the side of the road including one night when we abandoned the rickshaw so we could get a good night's sleep. Other challenges included tiger and elephant reserves where we were told not to stop or get out."
Read All About The Rickshaw Challenge
For more information about Toby and Tim's rickshaw run, read
their blog which they wrote whilst on the road in India, visit: www.blogging.theadventurists.com/tracking/adventure/rickshawrun2019c/