Cat With Missing Eye Dumped In Bin Bag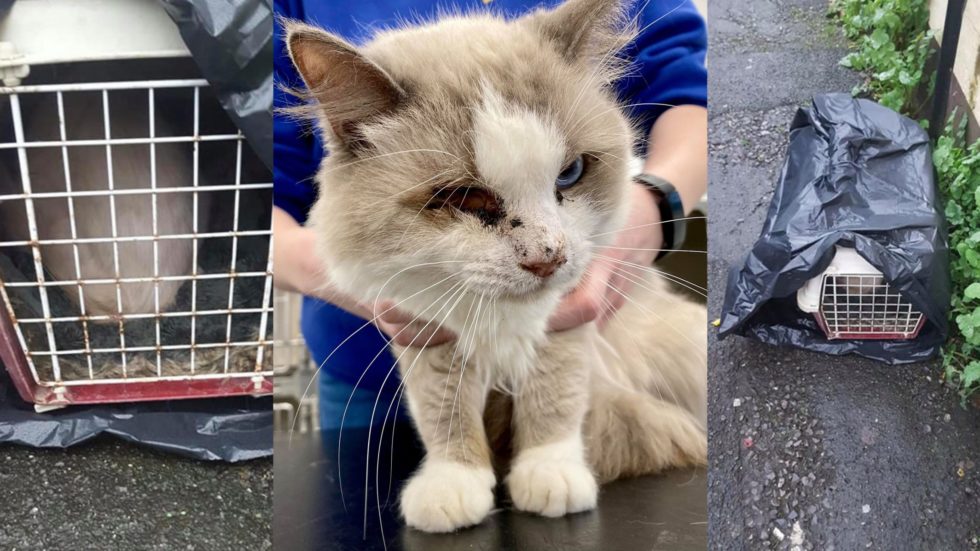 Cat With Missing Eye Dumped In Bin Bag
A young, distressed cat has been found with terrible injuries and badly traumatised after being wrapped up in a bin bag and dumped in Chatham in Kent.
The one-year-old ragdoll cat, named Artex by rescuers had lost an eye and was cowering in a dirty cat carrier inside a black bin bag when he was found last month.
Hannah Ashwell, Cats Protection's regional fundraising manager, said: "This young cat was in terrible pain; his right eye was missing, and the eye socket was an open and untreated wound.'
"Our vets have been working to provide the pain relief, antibiotics and veterinary care necessary for his welfare. The next thing is surgery to clean and stitch his empty eye socket." 
Once recovered, Artex will be placed with a Cats Protection adopter to help him recover from his ordeal and begin the road to recovery, both physically and emotionally.
While the exact cause of his injury and other physical factors is unclear, Artex will receive the many months of dedicated care and treatment he needs from Cats Protection.
The cost to Bredhurst Adoption Centre where Artex is being looked after is likely to be more than £700, so Cats Protection has set up a JustGiving page and invites donations.
Cats Protection relies on the donations of supporters – any funds raised beyond its target will be used to help other cats and kittens in its care at Bredhurst Adoption Centre.
To donate to the JustGiving appeal for Artex, visit: www.justgiving.com/bredhurst-cats-protection-artex