Can You Help East Grinstead's Tadpoles?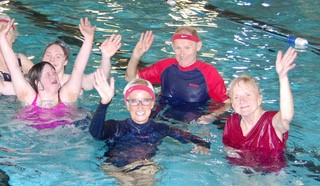 Can You Help East Grinstead's Tadpoles?
The Tadpoles, an East Grinstead-based swimming and water therapy club is looking for volunteers who enjoy swimming. The group was founded in 1982 to offer swimming opportunities in a safe environment, for people of all ages with disabilities who could benefit from swimming and water therapy.
The group meets at the Kings Centre every Thursday from 8.00pm to 9.00pm, where it has exclusive use of the pool, changing facilities, flat bed, hoist and warm air heaters. Club membership is a mixed of genders and an age range of teens to 80-year-olds, the disabilities of the swimmers attending is varied.
Club volunteers include students doing their Duke of Edinburgh's Award, as well as volunteers who have helped swimmers at The Tadpoles since the club's early days in the 1980s – volunteers are background checked, the group is conscious of the need for child and vulnerable adult protection. Can you help?
If you think you can spare an hour on a Thursday evening in East Grinstead, contact Jenny Leigh or Ros Disney at The Tadpoles. Visit: www.tadpoles.info, call: 01342 321779 or 01342 823464, or email: thetadpoleseg@gmail.com