All The Fun Of The Fair At Lindfield Residential Support Service Birthday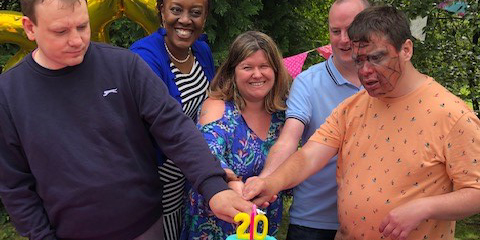 All The Fun Of The Fair At Lindfield Residential Support Service Birthday
The Disabilities Trust's residential and day care centre, Hollyrood, based just outside of Lindfield celebrated its 20th birthday in style with a special day which brought all the fun of the fair to the facility and its guests.
Hollyrood is a support service for people on the autism spectrum, birthday celebrations saw family and friends invited to enjoy a circus workshop, teacup rides, a singer, hook a duck games and ice cream.
Hollyrood service manager, Rachel Priestly said: "I am proud to support the service users and their families at Hollyrood and cannot thank the staff enough for their time in setting up and organising this event. Our service users and their families have had a truly magical (if not very tiring) day".
The Disabilities Trust chief executive, Irene Sobowale adds: "It was a wonderful day – service users, staff and guests all had a brilliant time and even the weather held out for us! The staff at our Hollyrood service and support teams from across the rest of The Disabilities Trust did a great job." 
For more information about The Disabilities Trust, and its facilities including Hollyrood, visit: www.thedtgroup.org