Take On A Picturesque Autumn Hike For St Catherine's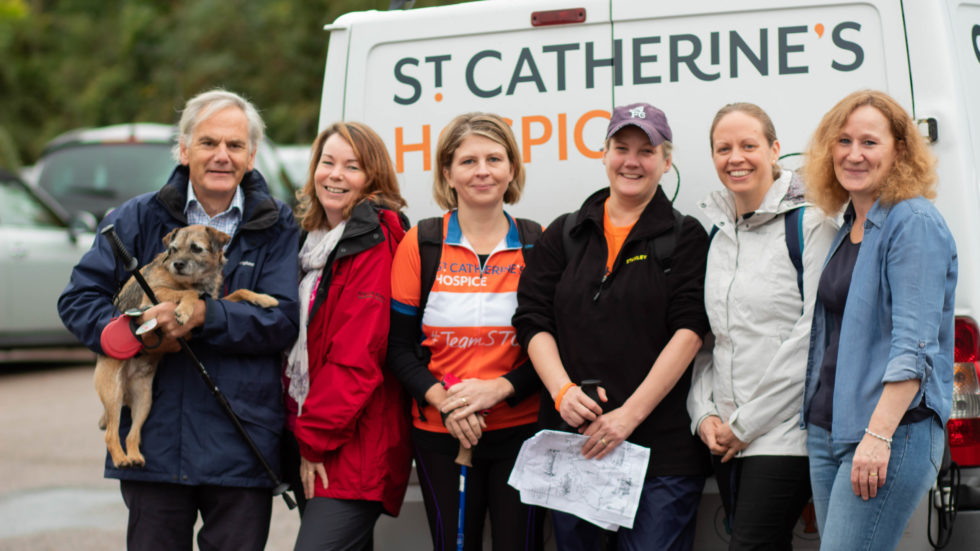 Take On A Picturesque Autumn Hike
For St Catherine's
Much-loved charity, St Catherine's Hospice, which provides dedicated end-of-life care and support to terminally ill people and their families across Crawley, Horsham, East Surrey and Mid Sussex is calling all walking enthusiasts and nature lovers to get their walking boots on this month and join fundraising walkers on Sunday, October 13 for a hike through the Sussex countryside.
Get your walking boots at the ready and get set for the second St Catherine's Hospice Sussex Landmarks Hike. Starting from the South of England Showground at Ardingly, a new venue for this year, the hike passes landmarks including the Balcombe Viaduct, Ardingly Reservoir and Wakehurst, allowing walkers to enjoy the changing colours of autumn whilst raising money for St Catherine's.
The full hike through the Mid Sussex countryside which passes significant local sights is 13 miles, but there are also six-mile and nine-mile walking routes available, and a three-mile nature trail, making this a family-friendly event, even suitable for dogs. There will be parking on the day, and walkers will be met with entertainment and delicious cakes to celebrate at the end of their hike.
Sophie Peckham, community and events fundraising manager at St Catherine's Hospice, says: "We're delighted to host Sussex Landmarks Hike for a second year. This autumnal hike follows a stunning route through the Sussex countryside and is great fun for all involved."
Appealing to energetic and charitable Mid Sussex residents considering hiking, Sophie adds: "We hope lots of you will join us, along with your family and friends. Your support will help us be there to provide end of life care for more local people when they need us most."
St Catherine's Hospice hopes to raise £35,000 from the Sussex Landmarks Hike by asking walkers for a donation or to raise sponsorship. This will allow the hospice to offer care to more terminally ill people in the future in Sussex and South East Surrey. The hospice can currently only care for one in three people who need them, but with your help and support, it is determined to care for more.
Local Community
Raises More Than
£1 million For New Hospice Building
In 2018, St Catherine's Hospice launched its Full Circle Appeal, an appeal to make sure that no one faces death and loss alone, including raising £5 million  to build a larger hospice in Pease Pottage. Thanks to  local people, the hospice is on track and £1.25 million has been raised for the building. 
Nick Bell, director of the Capital Appeal at the charity says: "Every donation, large or small, expresses the commitment of people in our local community to providing care for others. 
We'd like to thank everyone who has supported us. This huge achievement wouldn't have happened without you." 
For more information about the new hospice plans, visit: www.stch.org.uknewhospice
These Boots Are Made For Walking
Advance registration for the hike is £8.00 for adults (£10.00 on the day) and £5.00 for children, on the day registration is open from 9.00am at the South of England Showground in Ardingly. 
Are you ready, boots? Start walkin' Gather your walking buddies and register online, visit: www.stch.org.uk/SLH, or call St Catherine's events team on: 01293 447364.