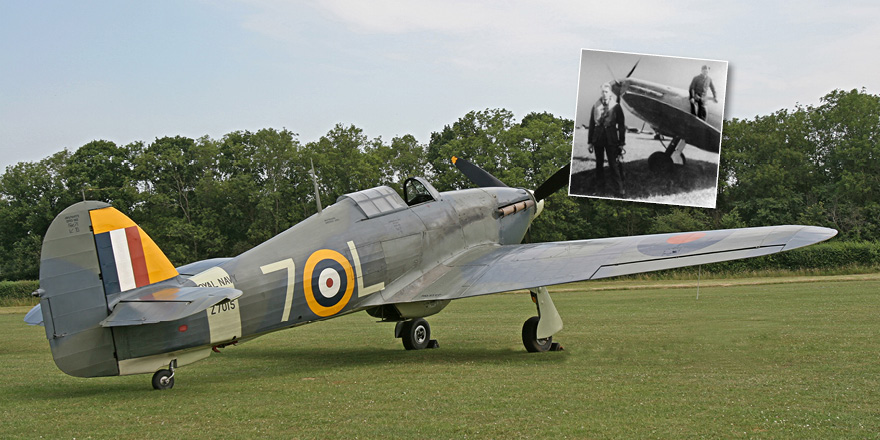 78 years-ago the Battle of Britain was raging in the skies above Surrey, one fighter pilot involved was the late Bob Doe who was born in Reigate in 1920, this month we look back at his eventful life and distinguished career.
Robert Francis Thomas Doe was born in Reigate on March 10 1920. After leaving school worked as an office boy for the News Of The World. In March 1938, at the age of 18 he joined the Royal Air Force volunteer Reserve and went on to make his first solo flight in June. Bob joined the Royal Air Force in January 1939 training with 15 E & RFTS (Elementary & Reserve Flying Training School) at RAF Redhill before completing combat training with Six Flying Training School at RAF Little Rissington.
Bob served with No. 234 squadron for most of the Battle of Britain, in August 1940 he shot down two Messerschmitt Bf 110s, followed by a Messerschmitt Bf 109 and a Dornier Do 18 amongst his wartime tally. Before long he was posted to No. 238 Squadron, flying Hurricanes from RAF Middle Wallop in Wiltshire, September 30 1940 he shot down a KG 55 He 111, and in October he shot down a Bf 110 and a Ju 88 on 7 October, the last of his aerial victories of the battle and of the war.
On October 10 whilst in combat over Dorset, Bob's plane was critically damaged, and he sustained serious wounds in the leg and shoulder. Doe landed on Brownsea Island while his Hawker Hurricane crashed near Corfe Castle. Admitted to Poole Hospital locally, Bob was awarded the Distinguished Flying Cross. In June 1943 Bob went to the Fighter Leaders School at RAF Milfield, and then joined No. 118 Squadron at RAF Coltishall in July, for now his frontline flying career was put on hold.
In October 1943 Bob was posted to Burma as the activities in Europe changed from defence to attack in preparation for Operation Overlord and the invasion of Normandy. However, in the Pacific theatre of war, the Japanese Imperial Army was still advancing on assets of the British Empire. In December 1943 Bob was tasked with forming No. 10 Squadron of the Indian Air Force, commanding it throughout the Burma Campaign until April 1945 when he joined the Indian Army Staff College.
Two months after the conclusion of the war, in October 1945, Bob received the Distinguished Service Order for his leadership of No. 10 Squadron. In September 1946, Doe returned to the UK, where he held several staff positions. He commanded No. 32 Squadron in Egypt in 1952 and retired in 1966 with the rank of wing commander. After retirement, Bob opened a garage business and he also wrote a successful autobiography, Bob Doe – Fighter Pilot. He died in February 2010, aged 89.
By Jacob White