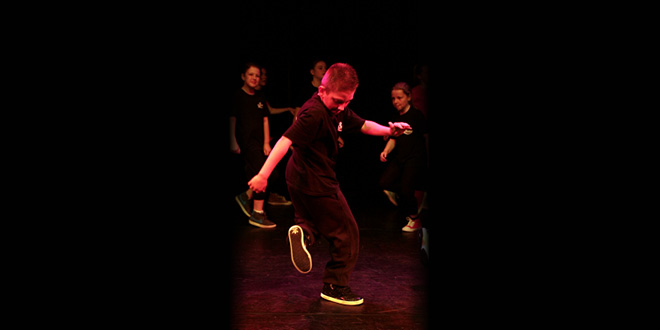 Sway Dance now encompasses more than 10 different styles of dance and fitness. Sessions range from Ballet to Pilates and Street Dance to Stretch & Tone. Many of the classes are now so popular that extra sessions have been added and even whole new classes!
Perform is a fun-filled Drama and Singing workshop with classes for 5-6 years and 7-8 years. The sessions led by Charlie Joseph and Kayleigh Gardner are in such demand that a new class has been created for older children, aged 9-11 on Tuesdays from 4.30pm-6.30pm. Young people from Perform can also go onto attend the brand new Hawth Youth Theatre (ages 12+) which begins with two FREE taster sessions on Thursday 3 and 10 September. All performance classes at The Hawth offer participants the opportunity to take to The Hawth stage in showcases and sometimes professional shows.
The Sway Street Dance classes at The Hawth are gaining a reputation as some of the best around. They offer authentic hip hop, lockin', poppin' and breakin' all under the guidance of an experienced and fully trained instructor. The Monday evening classes have now become so oversubscribed that two new classes will begin in September to allow more young people to enjoy Street Dance. These will take place on Wednesdays 4.15pm-5pm for 5-7 year olds and 5pm-5.45pm for 8-11 year olds. Plus a brand new Adult Street Dance will take place at 7.20pm – 8.20pm on Thursdays.
The phenomenon that is Zumba continues to draw crowds to our studio, with our fully sprung floor and mirrored wall making it the perfect place for this high energy class. As well as Zumba on Monday and Wednesday there will be a 6.30pm-7.15pm session on Thursdays from 1 October.
Completing the new look line up will be Yoga, Wednesdays 10.30am – 11.30am. A class for all levels, Hatha Yoga can be as gentle or challenging as you want to make it.
Sway Dance co-ordinator Keira Whittaker says "Sway at The Hawth has just gone from strength to strength over the past three years. We started off with a handful of classes and with the fantastic work all our instructors put in and the amazing efforts of all the participants Sway Dance Studio is becoming the place to be for performance and fitness – I'm thrilled."
For a full class list or more information on any of the above please call The Hawth Box Office on 01293 553636 or visit www.hawth.co.uk.