Flying High With The Surrey Hills Gliding Club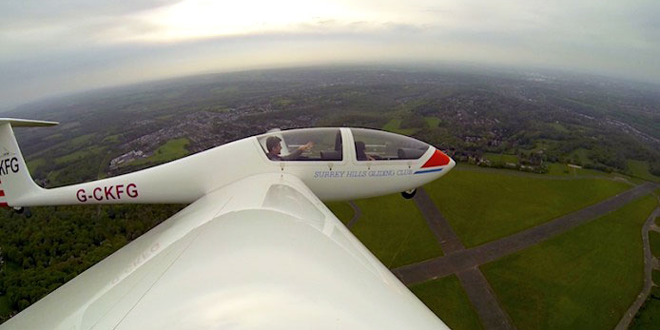 From a casual hobby to an inexpensive way to fly, gliding is an exhilarating sport offering people of all ages the chance to experience a silent and powerless flight. Guided by a British Gliding Association instructor you see the world from a bird's eye view.
The Surrey Hills Gliding Club is based at the historic Kenley aerodrome and has been operating since 1985. The gliding club is owned and operated by its members who welcome anyone who fancies a shot at learning to fly a glider.
Their current club fleet comprises two two-seat and three single-seat gliders, and in these aircraft, you can experience what it's like to fly in the footsteps of pilots during the Battle of Britain in 1940.
The former Royal Air Force Station Kenley was a station of the Royal Flying Corps in the First World War and the RAF in the Second World War.
English Heritage identified Kenley as the most complete fighter airfield associated with the Battle of Britain to have survived.
I will never forget my gliding lesson with the Surrey Hills Gliding Club. I gingerly walked to what resembled a big paper aeroplane, after being picked to go first by the rest of the Scout group.
To my surprise I was seated in front of my friendly instructor, near the nose of the plane, giving me a bird's eye view of our surroundings. After being told all the safety instructions, we prepared to launch.
The engine-less aircraft effortlessly climbed into the sky by using the naturally occurring currents of air that birds use to stay airborne. During our peaceful flight, we soared above a carpet of idyllic countryside and we could see as far as the City of London in the distance.
The experience got even better when I was given the chance to take control and steer the glider under supervision so I did not go whizzing off!
Gliding is for everyone who has ever dreamt of riding the air currents with the view stretching to the horizon and with barely a sound to disturb the moment and is perfect for aspiring pilots.
The time taken from your first ever flight to your first solo flight varies from person to person and the more practice you get the quicker you'll be able to soar off on your own.
At the club, the experienced instructors will show you how to control the glider and you will be given the chance to try the controls yourself during a flight.
From this point, there is more to learn about flying, airmanship, the theory of flight and skills such as navigation, weather forecasting and the laws of the air.
All flights at The Surrey Hills Gliding Club are made as members of the club, with temporary membership, trial lessons and gift vouchers available.
[box type="shadow" align="" class="" width="600″]For more information, visit:
www.surreyhillsgliding.co.uk
, call: 020 8763 0091 or, email: surreyhillsgc@gmail.com[/box]
By Georgia Lambert