Copthorne Players Returns To Chequer Mead Theatre With Fiddler On The Roof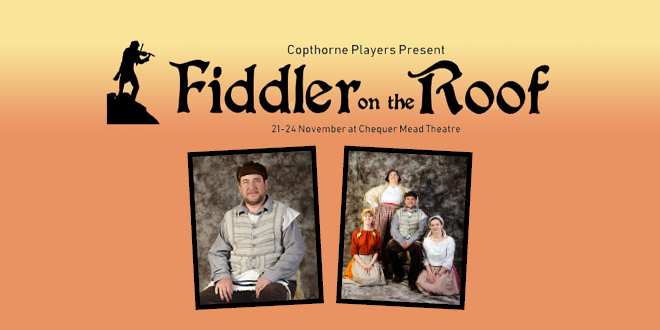 Copthorne Players returns to Chequer Mead Theatre next month with the multi-award-winning musical Fiddler On The Roof, a tale full of songs including Sunrise Sunset, Matchmaker Matchmaker and If I Were A Rich Man. Winner of nine Tony Awards, the original Broadway production was the first to reach more than 3,000 performances and it remains to this day one of
the most popular musicals of all time.
The show revolves around Tevye, a poor milkman who struggles to maintain the traditions of his Jewish culture and religion in early 20th Century Imperial Russia. He and his family settle in a small village where the oppressive Tsar now orders the eviction of all Jews and his strong-minded daughters do not help to make his life any easier when they decide to ignore the matchmaker's advice and marry for love.
The show's director Jeremy Tafler says: "This is the perfect way to follow the success of our production of Little Shop of Horrors last year, and our brilliant cast has bags of talent and enthusiasm for this great show. It's a chocolate with a serious centre, funny, catchy, tragic and uplifting as Tevye tries to balance his life, like a Fiddler On A Roof – the songs are unforgettable."
The show runs from November 21 – 24 and tickets are on sale now at Chequer Mead Theatre Box Office, priced at £16, concessions £14, to book your ticket, call: 01342 302000, or visit: www.chequermead.org.uk