Chip Chuck, a game for the whole family!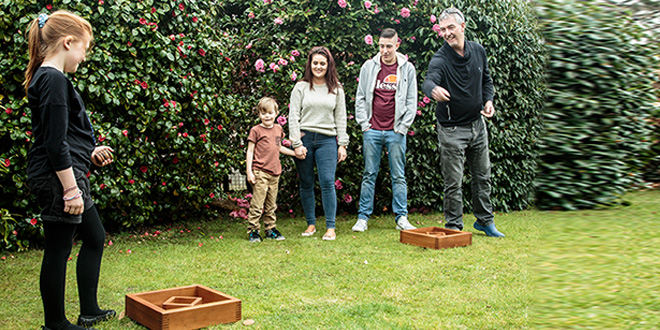 Lindfield based and family run, Chip Chuck Ltd are a small but passionate business who are excited to introduce their must-have garden game to people of all ages across Sussex and beyond.
The game was first played by the founders, Chris and Madeline Best and they were instantly hooked! After introducing the game to their family and friends, they decided to share the fun with a wider audience and in 2014 Chip Chuck Ltd was born in partnership with Chris' son, Richard.
The team updated the design and rules of the game to create a product that is more accessible for players of all ages and abilities. The game is environmentally friendly and made from sustainably sourced Acacia wood created by Alexander Rose. It retails at £39.99, and additional chips are sold on the website, in case someone gets a little too competitive and loses a chip in the next door neighbour's hedge!
The game consists of two identical box halves, placed three metres apart and two sets of five wooden chips. The chips are thrown one at a time from behind one box half towards and aiming at the other, scoring points depending on which section of the box the chips lands in. Players take it in turns until someone reaches the final score of twenty-one points or higher. The element of luck in this game is paramount and keeps it very exciting – it only takes one lucky chip to make a master of any player! Another bonus is that 'it takes longer to open a beer than it does to set the game up!'
Chris and Madeline have a close connection with St Peter and St James Hospice, knowing friends and family who have received care there. 'The hospice itself is a very special place and the work they do is extraordinary and comforting towards the patients and families'. They kindly decided to donate a box to the hospice as a contribution to their gardens to encourage a fun and engaging distraction for families and loved ones. As a thank you, Chip Chuck Ltd donates £5 to St Peter and St James hospice with every game sold at the hospice. "We have been so excited to see the interest and enthusiasm for Chip Chuck at the various events. More importantly, we have been blown away by the generosity of people so happy to donate to the Hospice for the fantastic work they do in our local community".
The game has proved its popularity within the community, attracting men, women, children and the elderly all trying their luck to score the highest! Madeline and Chris have taken part in many local events within the community and have held tournaments of their own with friends and family to find the ultimate champion.
During the summer of 2016, Chip Chuck will be featured at a handful of exciting events:
2nd May: Cuckoo Fair, Cuckfield
21st May: Hospice Open Garden – St Peter and St James hospice
30th May: Maresfield Village Day
4th June: Lindfield Village Day
12th June: Hospice Open Garden, Lindfield
18th June: Forest Row Family Day
You can find more details on their website at www.chipchuck.co.uk