Boundless Festival Comes To Borde Hill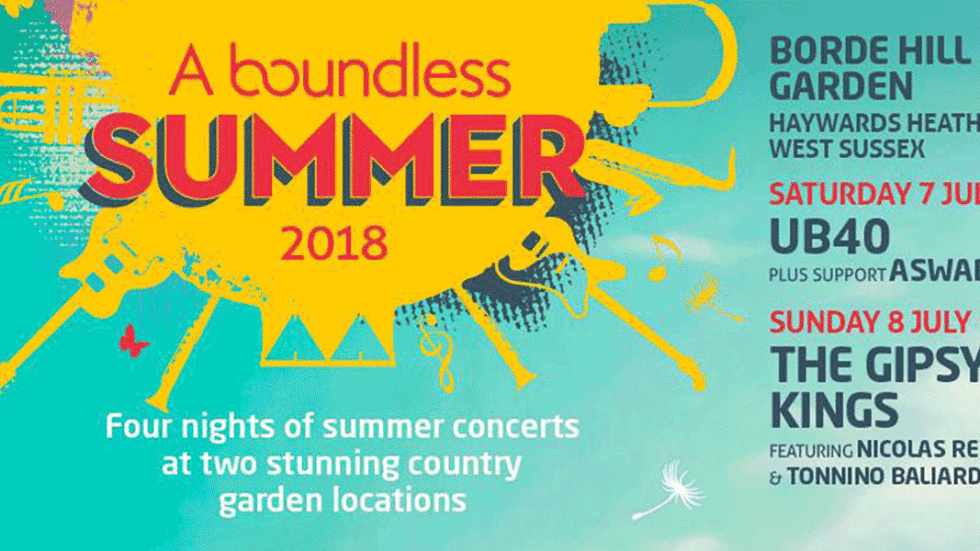 This month, Borde Hill Garden welcomes the return of its summer concerts in the parkland. Music legends UB40 and The Gipsy will be headlining new music festival, A Boundless Summer which takes place on July 7 and 8. The event, staged by Boundless and Neil O'Brien Entertainment will take place in front of the lakes in the beautiful parkland setting, with a backdrop of Borde Hill's Elizabethan 
Boundless Festival is set to become a highlight of the UK festival calendar, and with tickets starting at just £40.00 for an adult, the concerts are an affordable and enjoyable event just in time for
On Saturday, July 7, legendary reggae and pop band, UB40, with more than 50 singles in the UK Singles Chart will take centre stage. Beyond British shores, the band famed for hits including Red Red Wine and Kingston Town achieved considerable international success. UB40 has been nominated for a Grammy Award for Best Reggae Album
four times, and in 1984 were nominated for the Brit Award for Best British Group. In the past 40 years, UB40 has sold more than 100 million records
On Sunday, July 8, The Gipsy Kings who have been delighting audiences for a quarter of a century with joyful music – the perfect sound for a summer's night come to town. The band's self-titled debut record became a phenomenon, certified gold and platinum around the globe, introducing millions of listeners to a unique, irresistible of traditional flamenco styles with Western pop and Latin rhythms. Since then, the band has sold almost 20 million albums, all the while the same line-up of virtuoso musicians.
[box type="info" align="" class="" width=""] https://www.rhuncovered.co.uk/win-tickets-to-a-boundless-summer/
[/box]
Make A Date With Music Legends
Gates at Borde Hill Garden open at 5.00pm on evening of the day's concert, with support appearing between 7.15pm and 8.00pm the headline artist takes to the stage at The scheduled concert end time is 10.00pm.
For more information, www.bordehill.co.uk/event/summer-concerts-park/