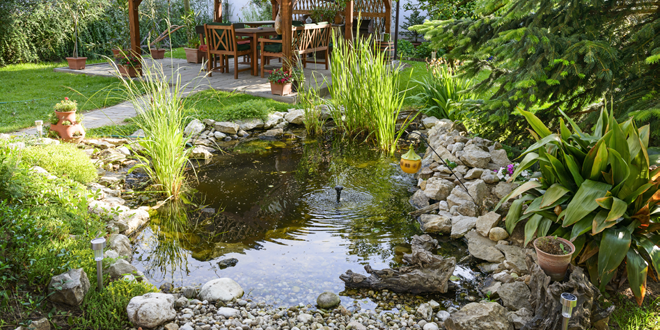 Water adds another dimension to any garden – the sight and sound of running water can lift and relax us no matter how stressful our day has been. The additional sound and light a water feature offers can bring a garden to life. Here are simple ideas to ensure your water feature is at is best.
The design of your water feature is important – it must be something that you can live with and be within your budget.
The water feature does not have to include sculptures or fussy glitz – a simple, informal wildlife pool can still be stunning as an attractive addition as well as a learning resource.
If you decide a pond is for you then here are some tip tops to make sure it works for you:
Pond Life
To ensure your new garden pond does not leak away use a good-quality liner such as a EPDM (Ethylene Propylene Diene Monomer) liner which is at least 1mm thick. It is recommended that you lay the liner across an underlay.
Find Balance
A good pH balance with no algal outbreaks is essential, to achieve this the pond needs to be ideally an area of 30m3 with a depth of around 1.5m in place and try to cover around two-thirds of the water surface with floating plants.
Three-quarters of the sides of the pond should be planted with plants such as flowering rush or marsh marigold and although a natural pond does not get cleaned if you find your pond becomes sludgy use calcium sulphate to clean.
Crystal Clear
To keep a pond crystal clear you need to install a filtration system otherwise draining, cleaning and refilling is far too time-consuming. Self-cleaning drum filters which are either gravity-fed
or pumped are a good choice for a pond novice.
The drums must be installed outside of the pond – if you're using the filter as part of an elaborate fountain it should be in keeping with it. If you are keeping fish it can be challenging to keep the water clear and you will need a more sophisticated filter.
Water Retention
Water features lose water through evaporation faster than you may think – you can install an automatic top-up unit fitted with a sensor but these can be expensive and by law cannot be filled from the mains supply – a cheaper alternative is a garden hose.
By Jacob White