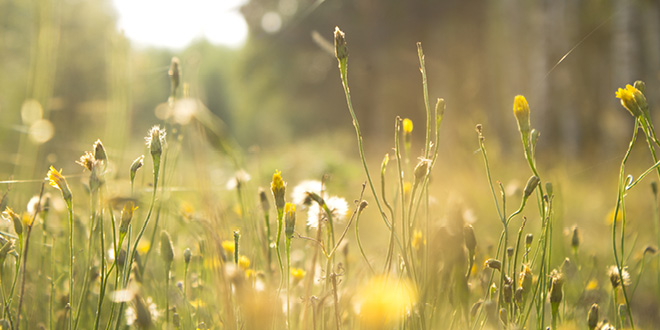 Ask a dictionary the definition of a weed and you'll read that it's 'a plant growing in the wrong place'. Ask a gardener, and they'll tell you that weeds are often the number one menace in their garden. So if you want to wage war on those pesky weeds, and stand a chance of winning, take a look at my multi-pronged attack strategy.
Off with their Heads
Whatever the weed problem, it's essential to prevent them from setting seed. Make sure you cut off its head before it has a chance to even start to procreate. The old saying that 'one year's seed is seven years' weed' isn't far from the truth.
Stop Stowaways
When you're next shopping for plants in your local garden centre or nursery make sure that you only bring home what you want, not those hidden stowaways that often lurk on the compost surface. I always do a bit of weeding before buying: especially for weeds such as the innocent looking hairy bittercress (Cardamine hirsuta).
Spaghetti roots
Some weeds like couch grass, bindweed and nettles have amazingly resilient and far-reaching underground stems or roots. Whatever you do, don't succumb to the temptation to use a powered cultivator or rotovator as this will chop the roots into little bits and end up spreading and increasing the problem in the process.
Lawn Louts
Lawn weeds such as dandelions and daisies are difficult to control as unlike the taller weeds, these rosette-forming plants won't be harmed as you mow the lawn. One of the best, albeit slow, methods is to tackle them with a sturdy old kitchen knife or a daisy-grubber tool.
Deep Rooted Problems
Some weeds such as docks and dandelions have tough and chunky roots that are very difficult to kill. And to make matters worse, if you leave any sizeable bit of the root in the soil, it's likely to form a new plant. Do everything you can to take out the entire root as you'll be saving a lot of time in the long run.
Laying Carpet
For large areas, try the carpet option; literally covering the surface with a layer or two of carpet, held in place with bricks. If the carpet is placed fluffy side down and left in place for at least 18 months, the weeds will start to die off from lack of light. Make sure that the carpet is made from natural fibres, not synthetic or else you'll be left with it in the soil, and for allotments, check that there are no restrictions on using carpet.
Time it Right
Some weeds such as the purple flowered oxalis spread by forming tiny 'bulbils' or miniature bulbs below ground. If you try to dig these weeds out now, the bulbils will be shed into the surrounding soil as you lift the plant out, making matters worse. Wait until next spring when the bulbils will be firmly attached and weed them out then.
Hoe, hoe, hoe
An old fashioned and still just as useful method of weed control is the hoe. They're a great way to weed your garden, especially if it's largely annual weeds such as chickweed or groundsel that invade your plot. Keep the hoe sharp and use it regularly.
Careful what you Compost
Only compost the green, leafy bits of weeds; avoid any chunky roots, and never put any flowering or seeding weeds in the compost heap. Some weed seeds will easily survive most domestic composting systems.
[box type="shadow" align="" class="" width="800″]Visit Pippa's website
www.pippagreenwood.com
for a great range of gardening products including Pippa's favourite weeder, Nemaslug, Nemasys caterpillar, slug, ant and other biological controls, Enviromesh & Envirofleece and lots more besides.[/box]