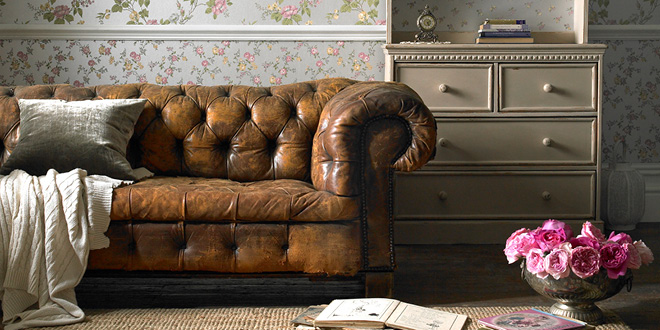 The way a space feels is just as important as the way it looks. Interiors expert Katherine Sorrell reveals how an imaginative use of different surfaces can make an impact in your home.
Colours and patterns may be the first things you notice when you walk into a room, but spend any time in it and the textures become increasingly important.  Not only is the right surface in the right area a functional necessity, but an appreciation of texture also enables us to relate to our surroundings in a direct and sensual way, making us feel comfortably and securely at home. Textures, in short, bring a room to life and make a house a home.
Underpinning every design scheme, textures relate to just about every aspect of a room, from size and lighting to colour schemes and style. Consider this aspect of room design as layering one texture with another (floor, walls, upholstery and window treatments are the basics), then adding touches of one or two more (cushions, lamps, vases, rugs and so on). At first the concept may sound challenging, but it will soon come entirely naturally.
Start with key areas – upholstery or loose covers in a fabric that's neither so shiny and slippery that you slide off it the moment you sit down, nor so rough that it's uncomfortable and snags instantly. Curtains that draw easily, worktops that are tough and durable, floorboards that can be cleaned easily. If you wanted to bring out the cosiness of a small bedroom, say, you could combine a fluffy rug, matt-painted walls, velvet curtains and chintzy quilts. Or, to emphasise a bright and airy living room, the main features might be varnished floorboards, glossy white woodwork, sheer curtains and glass or chrome lamp bases. The aim is to achieve pleasing contrasts rather than clashes, so avoid too many unusual, eye-catching textures in one space.
Texture has an important part to play in the overall style of a room. Modern rooms tend to feature harder, shinier surfaces, whereas a vintage or ethnic look is more rustic and varied in texture. You only have to think of the contrast between a contemporary room that features lots of stainless steel, chrome and mirror, with a more nostalgic room that contains quilts, knitting, embroidery and lace, to understand how important texture is in setting a scene.
Using understated colour schemes and simple patterns allows textures to speak for themselves. This is where a palette of neutrals comes to the fore – just think of the beautiful, natural hues of sisal, shell, stone or wicker. A dash of brightness may add a focal point, but the subtlety is in the surfaces themselves. Lastly, remember that good lighting shows off textures to their best advantage. Try to pick out interesting features and highlight them with uplighters, spotlights
or angled lamps placed appropriately.
Once you have grasped the basic principles of using texture, you can incorporate all sorts of different elements: distressed or varnished wood, woven willow, worn stone, foxed mirror, distressed leather, fake fur, buttons, raffia and crochet, to name but a few. Textural possibilities are endless and, with just a little effort, you can achieve a look that is individual, intriguing and truly remarkable.